Last Updated on 16th March 2023 by Sophie Nadeau
When it comes to the French capital, there's even type of street from little lanes, cobbled roads, and even grand boulevards. Stroll around the city for long enough and you'll soon discover that between the many little known bypasses to cobbled lanes to wide boulevards.. there are plenty of pretty Paris streets worth walking down.
And (if you don't already) perhaps you'll start believing that the City of Love is a place worth returning to again, and again… and again! After all, one of the biggest draws of Paris is its cobble lined streets, wide leafy boulevards, and sidewalk cafés.
Paris is like one big, giant breathing museum, where you don't need to venture into buildings to admire its beauty. Instead, the beauty of the French capital is wandering around and allowing the city to reveal itself to you.
So join me in this quest, as I search for the very best of roads in Paris. Whether it be historic highlights, filming locations, or simply a beautiful destination, here are the most beautiful streets in Paris!
#1 rue des Rosiers, 4th Arrondissement
Situated in the very heart of Le Marais, a district so-called thanks to its former status as marshy swampland, the Paris street of Rue des Rosiers is one of those streets that makes you feel like you're strolling through the Paris straight from a movie.
A cobbled lane filled with cafés, eateries, and independent boutiques, Rue des Rosiers is easily one of the most iconic streets Paris has to offer.
And, of course, if you're in search of medieval Paris, then this is the place to come. After all, the 3rd and 4th arrondissements of Paris largely escaped the Haussmannian renovations of the 19th-century.
Oh, and while in Le Marais, be sure not to miss the world-famous L'As du Fallafel. Serving fantastic vegan food, this eatery is located at number 34 Rue des Rosiers.
It's pretty safe to say that I've never tasted such good falafel (and at such a good price too!). In order to make the most of your time in Le Marais district, I highly recommend following this free and self-guided Le Marais walking tour.
#2 rue des Barres, 4th arrondissement
Trailing ivy covers the house at the end of the road and the cobbled nature of the alley means that few cars can, or even will venture up this narrow lane.
Rue des Barres is the perfect location to sip on an espresso and escape the hustle Led bustle of le Marais. After all, out of all the streets of Paris, this is by far one of the most beautiful you can hope to find anywehere in the city.
Here lies your opportunity to stroll down one of Paris' prettiest streets, camera in one hand, curiosity in the other. And if you're a fan of all things movie-related, then you might be interested to know that a scene of Gossip Girl in Paris was filmed down this street, as well as several perfume adverts!
Nearby, there are plenty of quirky attractions and little Parisian sights well worth your time. For example, Bibliothèque Forney is a public library dedicated to the decorative arts which is housed against the backdrop of a former Medieval Mansion House. Elsewhere in the arrondissement, the Village Saint Paul sells a variety of antiques and quirky wares.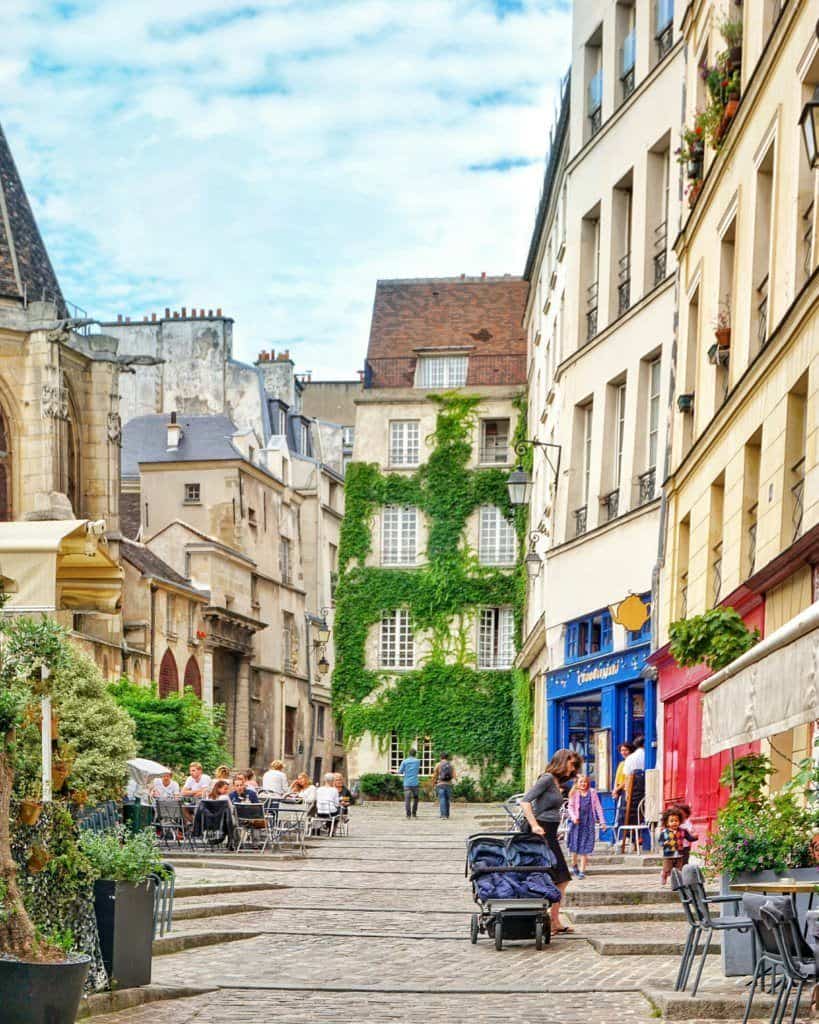 #3 rue Chanoinesse, 4th arrondissemen
There are as many secrets and little pieces of history hidden along Rue Chanoinesse as the road is as old as the many myths pertaining to it.
Home to one of the best cafés in Paris, and even a courtyard paved with repurposed gravestones, this street is a mere's stone throw away from Notre Dame.
While along this medieval road, don't forget to check out the address where Heloise and Abelard are alleged to have undertaken their forbidden 12th-century Romance. Also of note is the adjacent Rue des Chantres, one of the narrowest streets in Paris!
#4 rue Cremieux, 12th arrondissement
Though less of a 'Parisian secret' than just a few years ago, Rue Cremieux is full of colourful houses and plenty of cats. As a result of its 'Portobello Road look,' Rue Cremieux has become pretty 'insta-famous' in the past few years. And for good reason.
You can't stroll down this pretty Parisian street without snapping at least one or two of the colourful houses and quirky architecture.
This road is barely a few hundred meters away from Bastille Opera, home to Paris' other opera house and once home to the infamous pre-revolution prison, Bastille.
Please note that in more recent months, there are a number of signs up telling visitors to be respectful of the street and people who live there.
#5 Square de Montsouris, 14th arrondissement
Don't let the name of this pretty Parisian street fool you! This 'square' is actually one of the prettiest streets in Paris and it's close to one of the most picturesque parks in the city, Parc de Montsouris. Square de Montsouris is located in the 14e arrondissement of the city.
The cobbled lane of Square de Montsouris is a great place to wander around if you want to escape the hustle and bustle of tourists surrounding more 'famous' parts of the city.
Nearby, the Parc Montsouris is home to a closed off part of the Petite Ceinture and is one of the best places to see during Paris in the fall, while the infamous Paris Catacombs aren't too far away…
#6 rue de l'Abreuvoir, 18th arrondissement
Of all the pretty Paris streets listed here, I think that Rue de l'Abreuvoir must be my favourite! The pink house of Montmartre sits at one end of the street, while Place Dalida (dedicated to the iconic singer) can be found at the other end.
Local legend has it that if you touch the bust of Dalida in Place Dalida, you'll be rewarded with good luck. Rue de l'Aubreuvoir is like stepping into Paris of the past, only this time with selfie sticks and proper waste facilities!
Here you'll find a cute cobbled road, plenty of trailing ivy and few tourists. The road was first mentioned as early as 1325 when it was known as 'ruelle qui va au but' (road which goes to the end).
For the best possible lighting and capturing the place without the crowds, I recommend visiting first thing in the morning, mid-week if possible. For more hidden gems of Montmartre, here's your guide to the best of secret spots in the 18e.
#7 rue Lamarck, 18th arrondissement
Okay, just one more street in Montmartre, I promise! Then we'll go and explore some other parts of the city… So, I know everyone just loves exploring around the Parvis de Sacré Coeur, the Sinking House of Montmartre, and the likes, but the other day I was strolling through the back streets of Montmartre when I stumbled on this gem…
The café of Le Refuge is perched on the steps leading down from the top of the Montmartre hill and looks like it's come straight out of the last century.
Rue Lamarck itself is named for the 18th to 19th Century Professor of Zoology and can be found at the meeting point of Montmartre hill and the butte of Montmartre.
#8 rue Nicolas Flamel, 4th arrondissement
Yes, you read that correctly! No, I am not making this up: Nicolas Flamel was a real person and he lived in Paris together with his wife. It's thought that JK Rowling owes her 'Flamel Inspiration' to her time studying abroad in Paris during university.
Although Flamel was an academic and store owner in medieval Paris, it's thought that the 'alchemist' rumours surrounding him did not emerge until centuries following his death.
The cute little street of Rue Nicolas Flamel is located in Le Marais, not far from Hôtel de Ville and just streets away from Auberge Nicolas Flamel, i.e. the oldest stone residence in Paris.
That large tower you can see at the end of the road in the picture below is known as 'Tour Saint Jacques' and is all that remains of a once-grand medieval church which dominated the area.
In the summertime, it's possible to ascend the tower for a fee. Want to know more? Here's your guide to searching for Harry Potter in Paris!
#9 Quai de la Tournelle, 5th arrondissement
Come summertime, there are few things I enjoy more than strolling along the banks of the Seine and admiring the Parisian sites. One of the best places to do this is Quai de la Tournelle.
Wander past Île de la Cité, and admire the small independent shops that make up the Latin Quarter of the city. From the pretty street of Quai de la Tournelles (which is easily one of the most famous streets in Paris), you can see Notre Dame in all its glory (and even some cherry blossom in the Spring)!
Other highlights of Quai de la Tournelle include several bouquinistes (these book and antique vendors are now listed as UNESCO) and plenty of picnic spots at which to enjoy a picnic à la Parisian.
#10 Champs-Élysées, 8th arrondissement
Of course, no trip to Paris would be complete without a stroll along the iconic Champs, which is easily one of the most known Paris roads. Literally translated as 'Elysian Fields', of all the pretty Paris streets on this list, surely this iconic shopping street is the most famous.
The French boulevard was inaugurated in the 19th-century and has since become a symbol of the city. And with the Arc de Triomphe on one end and the famous wheel at Concorde on the other, it's not hard to see why!
If I were to give you just one top Paris travel tip for visiting, it would be that the best time to ascend the iconic triumphal arch is at sunset, when the light is golden and the Eiffel Tower looks at its best.
So as to make the most of your time in the city, be sure to book your Arc de Triomphe tickets in advance.
#11 rue Lepic, 18th arrondissement
Situated in the ever so whimsical district of Montmartre, i.e. the 18th arrondissement of the city, rue Lepic snakes its way around the area, encompassing many independent shops, stores, and eateries along the way.
Once home to many a windmill, today some of the last Parisian windmills are to be found along this pretty Paris street. And that's not the only history that's to be found on this historic French road.
After all, it was here in the late 19th-century that the Renault car (i.e. the one and same as the famous French brand) was born for the first time. For a time, it was also along rue Lepic that Vincent van Gogh resided along with with his brother Theo.
#12 Villa Léandre, 18th arrondissement
For those who are searching for something a little different than the typical Haussmannian architecture that's so synonymous with the city, Villa Léandre is a must-see when it comes to streets in Paris.
Modelled in the 1930s after the English style, of particular note is the little plaque at No. 10 announcing 'Downing Street' as a little nod to its No. 10 British counterpart in London (i.e. official residence of the Prime Minister of the UK).
#13 rue Saint-Rustique, 18th arrondissement
The oldest street in Montmartre is that of rue Saint-Rustique. Tucked away in the heart of all the action and offering fantastic views of the Sacré-Coeur, this historic road was officially designated a pedestrian walkway, making it the first road of its kind.
Today, on the corner of where the historic coffee house of Le Consulat meets the typically French bistro of La Bonne Franquette, you'll find the narrow passageway.
#14 rue Saint-Dominique, 7th arrondissement
For that 'romantic Parisian view,' there is perhaps no other location in the city quite as iconic as that from along rue Saint-Dominique, which is located in the 7th arrondissement (the same area as the Eiffel Tower).
One of the best places to enjoy the twinkling Eiffel Tower come nighttime in Paris, this delightful Paris street is home to highlights such as chic brasseries and luxurious hotels. For a true taste of luxury in the City of Light, be sure to book yourself into a hotel like this one.
#15 Avenue Rapp, 7th arrondissement
For one of the best Eiffel Tower views in Paris, you simply must head to the oh-so-typical Avenue Rapp. Together alongside Square Rapp, this pretty Parisian street offers a glimpse of chic Paris.
For a particularly unusual (and pretty controversial) glimpse of quirky Paris, be sure to head to No. 29, where Lyon born artist Julien Lavirotte's art-deco creation can be seen.
#16 rue de Sévigné, 3rd arrondissement
Situated in the very heart of Le Marais and overlooking a church which was commissioned by Cardinal Richelieu of the Three Musketeers (Église Saint-Louis-Saint-Paul), rue de Sévigné is easily one of the prettiest streets in the entirety of the city.
The first attestation of the street dates back to the 15th-century, when it was known as rue de la Culture-Sainte-Catherine or rue de la Couture-Sainte-Catherine, while the most northern part of what is now rue de Sévigné was then known as rue du Val.
#17 Avenue de Camoëns, 16th arrondissement
One of the most beautiful streets in all of Paris also offers a view of the Eiffel Tower. Avenue de Camoëns can be found in the 16th arrondissement of the city and can be found in the Muette district of the area. Best seen at sunrise so as to enjoy the stunning light on the Eiffel Tower, it's truly a must-see while in the city.
#18 rue Montorgueil, 2nd arrondissement
Situated in the 2nd arrondissement of the city, rue Montorgueil is a largely pedestrianised street running right through the heart of this central Parisian district. In France, it's common to frequent a number of different stores in order to do your grocery shopping.
This means going to a specialist cheese shop, vegetable shop, and butchers to get the freshest essentials. Rue Montorgueil has several each of Italian delis, ice cream shops, fromageries (cheese shops) and much, much more.
#19 Rue de l'Université, 7th arrondissement
One of the very best places to see the Eiffel Tower if you want to find a shot surrounded by Haussmann architecture is that of rue de l'Université. Situated in the 7th arrondissement of Paris, this is easily one of the most Instagrammable streets in Paris!
Just note that as a result of this Paris street becoming more popular on social media, it can get very busy so you'll want to head here earlier in the day and mid-week if possible in order to get more of the place to yourself!
#20 Rue Mouffetard, 5th arrondissement
As well as being one of the oldest streets in Paris, rue Mouffetard (or la Mouffe as some locals like to call it), rue Mouffetard is located in the 5th arrondissement. Much like rue Montorgueil, this road is one of the key shopping streets in the city and functions as something of a market.
Not only are there plenty of specialist food shops such as bakeries and greengrocers, but there's also plenty of interesting architecture to spy and independent stores such as bookshops and clothing shops to shop in.
#21 Rue des Thermopyles, 14th arrondissement
One of the best places to visit in the 14th arrondissement of Paris is that of rue des Thermopyles, which can be found close to Pernety métro station (on line 13). Rue des Thermopyles is 280 metres in length and stretches between 32, rue Didot and 87, rue Raymond-Losserand.
Today, the street is a rarity in Paris on account that it's paved with large cobblestones (as opposed to the smaller hand-sized variety found in locations such as Montmartre). The street also features buildings which are two and three storeys as opposed to the typical Parisian six and seven floors.
#22 rue du Commerce, 15th arrondissement
One of the more lively and interesting shopping streets that visitors can experience in Paris is rue du Commerce, which is located in the residential 15th arrondissement area of the city.
The name 'rue du Commerce' actually dates back to when the road was the main shopping street for the commune of Grenelle.
Once upon a time, Grenelle would have been a village in its own right but has since been absorbed into the fabric of Paris proper. Now the street is full of independent shops and boutiques selling everything from fresh fruit to vintage clothing.
Enjoyed reading about where to find the prettiest streets in Paris? Pin it now, read it again later:
Sophie Nadeau loves dogs, books, travel, pizza, and history. A fan of all things France related, she runs solosophie.com when she's not chasing after the next sunset shot or consuming something sweet. She currently splits her time between Paris and London. Subscribe to Sophie's YouTube Channel.