Last Updated on 2nd January 2022 by Sophie Nadeau
If you miss the iconic show of Gossip Girl, then fear not! It's still possible to visit many of the show's filming locations around various cities across the world. Season 4 saw some of the show's favourite characters visiting the city of lights. Here's your ultimate guide to all of the Parisian filming locations for Gossip Girl in Paris… A must-visit for every fan of the show!
Whether you were a fan of Blair and Chuck's romance, envious of Serena's wardrobe or wished that you got invited to glamorous parties at a moments notice, then it's also worth noting that both Gossip Girl Parisian Episodes (Belles de Jour and Double Identity) take place in the month of August. This is typically when Parisians themselves leave the city in droves and the French capital is very busy with tourists (not to mention very hot!)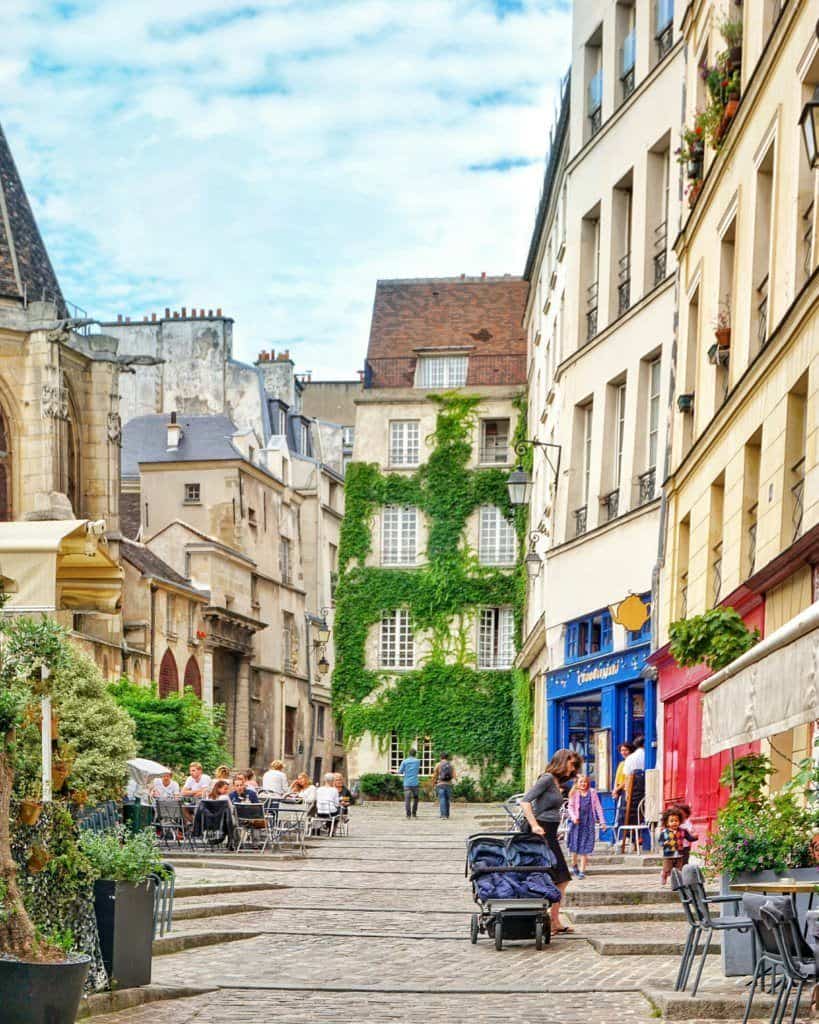 Chez Julien
Address: 1 Rue du Pont Louis-Philippe, 75004 Paris
Scene: Blair and Serena enjoy a chic lunch at a well-known lunch spot in the 4th arrondissement of the city. Chez Julien is located in the heart of Le Marais district of Paris and is famed for its steak and chips, and frog legs, among other menu items.
Café Louis Philippe
Address: 66 Quai de l'Hôtel de ville, 75004 Paris, France
Café Louis Philippe is directly across from Chez Julien, on the other side of the street. The beautiful Parisian café soon becomes a firm favourite with Blair and Serena, seeing the pair meet up for several aperitifs at the chic spot over the course of the two Parisian episodes.
Nearby, one of the prettiest roads in Paris is that of rue des Barres, which features a cobbled lane, several independent shops, and of course, a historic church. The second episode of Series 4, Double Identity, also begins with Blair and Serena discussing dating over lunch.
Musée d'Orsay
Address: 1 Rue de la Légion d'Honneur, 75007 Paris
Scene: Blair meets Prince Louis Grimaldi for the first time in Musée d'Orsay in front of the Manet painting on the ground floor. In real life, Le Déjeuner sur l'herbe is actually to be found on the top floor of the building. The museum also features again, at the end of the Paris segment of the show, when Blair meets with Prince Louis to confess that she has to return to New York.
The museum itself is full of beautiful artworks and well worth a visit. From Van Gogh's Starry Night to Manet's Le Déjeuner sur l'herbe the museum boasts some of the finest artworks in the world.
Plus, the clock on the top floor is an iconic Parisian shot and offers panoramic views over the city toward the Sacré-Coeur. To plan your art-lovers visit well in advance, be sure to purchase your Musée d'Orsay entrance tickets ahead of time. Buy your tickets here.
Musée Baccarat (Cristal Room Restaurant)
Address: 11 Place des États-Unis, 75116 Paris
Scene: The restaurant is the backdrop for the scene where Blair and Louis go on their first date at Baccarat with Serena and Jean Michel. It's also where Blair finds out that Serena will also be attending Columbia in the fall (after a conversation with her mother). This stunning restaurant offers fine-dining and luxury culinary experiences at a price point to match. Book your table here.
Fontaine Louvois
Address: 1 Rue de Louvois, 75002 Paris
Scene: Blair pushes Serena into the Fontaine Louvois during a break from their dinner at Baccarat with Prince Louis and Jean-Paul. The fountain itself was constructed between 1836 and 1839 and is surrounded by plenty of the Haussmanian architecture that is so synonymous with the city.
Paris is home to countless fountains, many of which are incredibly beautiful. For more ideas on which water features to visit in the French capital, be sure to check out our guide to the best water fountains in Paris.
Gare du Nord
Address: 18 Rue de Dunkerque, 75010 Paris
Scene: The Gare du Nord train station is where you'll first arrive if you're flying into Charles de Gaulle airport and taking the train into the city. This terminus is pretty important as it acts as the backdrop for two major scenes in Gossip Girl in Paris and is located in the 10th arrondissement of the city.
Firstly, Eva and Chuck arrive in Paris at the end of Belles de Jour. In Double Identity, Blair convinces Chuck to return to New York at the train station. If you're looking for greater insight into the French metro system network, then check out my guide to Paris metro tickets.
Rue de Charenton/ Rue Traversière
Address: Rue de Charenton/ Rue Traversière 75012 Paris
Scene: Blair and Chuck bump into each other on the streets of Paris at this iconic French crossroad. Blair is in a taxi on the way to a date with the Prince, while Chuck is using the pedestrian walkway to make his way towards his new job, which has been secured thanks to the help of his new girlfriend (who saved his life in Prague).
Le Baron Rouge
Address: 1 Rue Théophile Roussel, 75012 Paris
Scene: Ever wonder if the café that Chuck works at during the second episode is real? Well, the wine bar where Bass works is a genuine drinking establishment in Paris and it's called Le Baron Rouge.
In a later scene, Serena meets with Eva's uncle at le Baron Rouge to ask after Chuck. Located in the 12th arrondissement of the city, nearby attractions of note include Bastille and rue Cremieux.
Harry Winston
Address: 29 Avenue Montaigne, 75008 Paris
Scene: This is where the engagement ring that was stolen from Chuck is returned to after it was recovered by the police. Blair visits Harry Winston to pick up some jewellery and spots the ring that was meant for her…
Galeries Lafayette & Printemps Department Stores
Address: Boulevard Haussmann, 9th arrondissement of Paris
Scene: The two most famous of Parisian department stores are featured in a shopping montage, where Blair and Serena go shopping together in preparation for Blair's first date with Prince Louis. The scene happens in the Belles de Jour Paris episode.
It's worth noting that both of these stores are free to visit and well worth a wander around. Of particular note is the Galeries Lafayette rooftop terrace, which is situated in the 9th arrondissement, which offers breathtaking panoramic views over the city.
The Tally Weijl shop is also featured in this montage. Other shopping districts featured in the episode include shops along Rue Saint Honoré and at Palais Royal, as well as the luxury shops of Avenue Montaigne and Georges V.
Marché Alibert
22-24 Rue Alibert, 75010 Paris, France
Around a third of the way through the second episode set in Paris, there's a scene where, directly after Chuck has finished his work at the café, he purchases a gorgeous bunch of flowers for Eva.
The street market is called Marché Alibert and is a wonderful place to wander through if you're looking for an authentic French experience. Highlights of the open-air market include a fresh bakery and a wine seller.
Pont des Arts
Address: Pont des Arts, 75006 Paris, France
Formerly known as the love locks bridge, this Parisian structures provides some of the best views of Paris to be found anywhere in the city. Featured in several Paris montages during the two Parisian-filmed episodes, in Double Identity, Louis and Blair are seen on their date walking across the bridge chatting, while Blair eats a kebab.
The history of Pont des Arts dates all the way back to 1801 when a nine-arch bridge was constructed so as to serve as a pedestrian walkway over the River Seine. Works finished in 1804, making the pedestrian crossing the oldest and first iron bridge in Paris. Today, the bridge is one of the most beautiful places to visit in Paris.
Hotel Bel Ami
Address: 7 Rue Saint-Benoît, 75006 Paris, France
Scene: Serena receives a call from Blair where Blair explains to her about meeting Prince Louis in the ground floor of the Musée d'Orsay. Though the hotel's exterior simply features in the background, it's actually a five-star hotel where you can book a stay. Check rates and availability here.
B-Roll Footage in and around Paris
Though no quintessential scenes particularly take place at any of the following locations are all featured in the opening credits of Gossip Girl in Paris, or at the very least within the filming of the show. Though all the monuments can be admired via their exteriors, you can also visit iconic sights such as the Eiffel Tower, the Louvre, and the Arc de Triomphe;
Les Invalides – Buy your tickets in advance here

The Eiffel Tower – Buy your tickets in advance here

The Louvre – Buy your tickets in advance here

Notre Dame – Please note that due to a terrible Notre Dame fire in April of 2019, the church is closed until further notice.
Enjoyed reading about the best of 'Gossip Girl in Paris'? Pin this article now, read it again later!