The latter half of this month signals the beginning of Spring with the Equinox, while the 1st of March indicates the dawn of the Meteorological spring. Whatever your definition of the start of the spring season, one thing is clear: warmer weather is on the horizon, the city is brightening up and the days are getting longer. There's plenty of things to do in Paris come March time, and so here's your go-to-guide for Paris in March:
There are no major holidays or closing days in Paris during March. This means that you won't have to watch out for any unusual closures, apart from the usual Sundays in Paris when almost everything is closed for the day.
Paris Weather in March
Only one word can suitably describe the Parisian weather in March, and that word is erratic! One day it might be raining, while the next the sun will be shining, and the birds singing! The temperature in the City of Love during March hovers around 5-12 degrees Celsius, with the actual average at around 10.
Showers come and go, and there's always the possibility of snow, hail and cold rain! Though snow in March in Paris isn't very common, in 2018 there was a fairly large amount of snow, which led to the City of Light being blanketed under a carpet of the white stuff for several days. As such, prepare for the possibility of snow during your Spring sojourn to Paris.
What to wear in Paris in March
As is clear from the weather, March is a month of extreme highs, lows and everything in between. As a result, the best way for you to pack if you're planning a visit to the French capital this month is to go for layers and make sure that you always have an umbrella or waterproof at the ready.
Clothing essentials
Layering outfits that still look stylish is an art form that Parisians have mastered well. Think monochrome wardrobe so that none of your outfit choices clash and everything can be worn in combination with one another. I love the dresses from this brand.
For a week in Paris, I'd recommend one pair of jeans, two or three tops, one skirt, three dresses, and plenty of tights! I'd also consider bringing multiple sweaters and cardigans so that you can wrap up warm for wandering around, before removing a layer when you enter an eatery or a museum.
Running shoes/ comfortable sneakers
You don't want to wear snow boots, nor do you want to wear open-toed sandals. Instead, I find that wearing running shoes strikes the perfect balance between fashionability and practicality.
After all, those cobbled lanes don't translate into easy walking ground if you're wearing high heels, etc.! I always wear Keds and find they last long and go well with pretty much everything I own.
A warm scarf
You can never go wrong by bringing a scarf along with you on your travels. Pack the right one, and you'll have something to double up as a blanket on the aeroplane, wear when you're cold, and keep your shoulders warm when it gets chilly in the evening and you're out for dinner.
A warm coat
I've had my North face coat for a couple of years now, and it never lets me down. Warm to look at and even warmer to wear, I bought a size up from what I normally wear so that I can keep extra cosy and fit a sweater underneath! I find that my coat is also pretty water resistant, but if it's set to rain a lot, I'll bring an umbrella as the coat is definitely not waterproof.
What to do in Paris in March
Go hunting for cherry blossoms
If you're a fan of shorter queues for museums, longer days and all the cherry blossom, then Paris in March is the perfect time to visit the city of lights for you! If you're lucky, then you might also get to see the last of the magnolia in Paris too.
One of the very best early spring activities is to bring your camera (I use the Sony A6000) and go where your feet take you in search of some pops of pink. Some of the very best places to spot cherry blossoms include Notre Dame, outside Shakespeare and Co, and around the Eiffel Tower.
Head to a park and soak up some flower power
In March, after a long and dreary winter, spring blooms (and not just cherry blossoms) are abundant. Wander around some of Paris' most extensive parks, rent a boat on the Bois de Boulogne, or head to Park de Saint-Cloud for one of the best panoramas over the city.
Curl up with a book
If you're headed to Paris in the early spring, then chances are that it will rain at some point or another. Luckily, there are plenty of rainy day activities in Paris for those who don't want to spend much time outside. There are even plenty of Anglophone bookshops in the French capital for those who are searching for a rare or unique title in English.
Visit the annual Paris Book Fair (moved to April)
Speaking of books, a yearly book fair is held in the French capital and it's said to be one of the most popular book-related festivals in the world. In mid-March, all manner of books and bibliophiles descend on the city to celebrate written word! More details about the fair can be found on the Livre Paris website. In 2021, the annual book fair was cancelled. In 2022, the book fair has been moved to April in Paris.
Celebrate St Patrick's Day on the 17th of March
If you were thinking of heading to another European capital to celebrate the Irish holiday (unless you were actually headed to Ireland), then think again! There are plenty of Irish pubs in Paris where you can enjoy a good pint and catch up with friends. During the evening of the 17th of March, famous Parisian monuments, such as the Arc de Triomphe and the Moulin Rouge will be illuminated in green!
Attend Le Mondial du Tatouage (tattoo festival)
2020 saw the 10th edition of the annual world tattoo festival in paris. Created in 1999 and then paused for over a decade before being reactivated in 2013, the event sees over 400 tattoo artists from across the world gathering for shows and special events.
The event will take place in Paris in the middle of March at La Grande Halle de La Villette in the 19th arrondissement of the city. Exact times and dates are not yet confirmed for the next spring edition.
Best Cafés and Bars in Paris I'm loving this month!
With the arrival of longer days comes the promise of sitting out en terrace and watching the sunset as it transforms the sky into candy colours and the Haussmannian architecture is lit by a warm glow.
Situated on a road of the same name, Café Mericourt is the sister shop of ever-famous nearby Café Oberkampf. Serving some of the best speciality coffees in town, and deliciously naughty pancakes, this coffee house is the perfect place to wrap up warm after a long photo walk or morning exploring the city.
An all-time favourite with locals and tourists alike, you can't go wrong by dedicating a couple of hours to wandering the cobbled lanes of Montmartre. This is especially true in March when ivy trails cover the houses and it's possible to sit en terrace and enjoy your coffee while watching Parisian life go by.
In the chic and luxury district of Paris, Saint-Germain-des-Prés one coffee shop has been serving sumptuous food and well-brewed coffee to customers for well over a century.
Café de Flore has served clientele from celebrities, to film stars, to some of the best writers France has to offer. Wander in at any given moment and you'll be greeted with a mouth-watering wine list and friendly staff- Parisian café perfection!
The coffee shop of Kitsuné is located in an enviable position in the very heart of Palais Royal, which is incidentally a great place to spot some spring blossoms when they first appear in March.
Café Kistunsé produces some of the best matcha lattés in Paris, and so you can get a takeaway cup in order to admire the blossoms en plein air (see a picture of Palais Royal below!)
Best Day trips from Paris in March
Of course, warmer weather signals longer days, ergo it's time to take some day trips from the city! Spring is the perfect time to take trips from the City of Light as there are fewer tourists around, and yet everything is open once more (many museums and French Châteaux shut their doors to the public during the winter months). Go out in search of spring blossoms, French Châteaux, or simply some respite from the hustle and bustle of Parisian life…
Senlis
This pretty and often forgotten town is located an hour or so from Paris. It's near the iconic city of Compiegne and Senlis itself is filled with eateries, traces of Joan of Arc and all the history you could ever ask for. If you're looking to head somewhere off the beaten tourist track, then Senlis is the place for you!
Sceaux
Blossom, cherry blossom, and more blossom. Sceuax in Spring makes for the perfect day trip from Paris and is located at the end of the ReR B, making it incredibly easy to reach.
Wander around the cobbled lanes of the town, or enjoy a relax in the cherry blossom orchard in Château de Sceaux's castle grounds. Please note that the orchard is free to visit, but sometimes the flowers don't bloom until as late as April!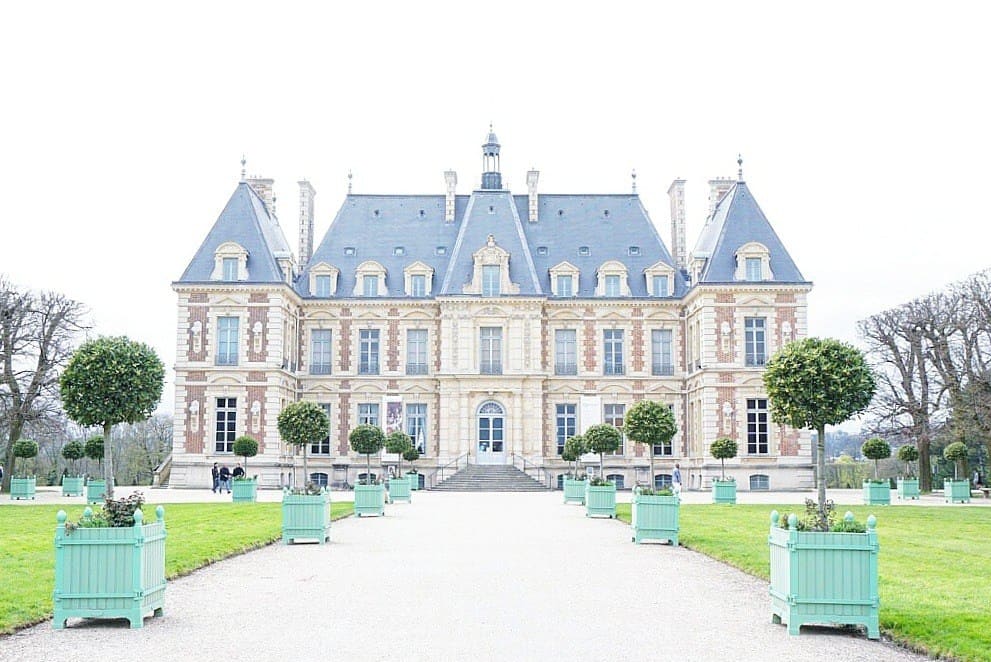 Meaux
The easy half day trip from Paris to Meaux is full of outdoor activities and so is best attempted when the weather is a little warmer than in the winter and the days are slightly longer. Filled with ecclesiastical buildings and its own brand of brie and mustard, Meaux is a great day out for food lovers and history buffs alike.
Château de Vaux le Vicomte
After a closure during the winter months for preservation and renovation purposes, the glorious Chateau de Vaux le Vicomte that was once admired by a King so much that he confiscated it for himself, is one more open to the public. The Chateau opens in mid-march and makes for the perfect day out from the city with kids, with a partner, or simply on your own!
Enjoyed reading about the best things to do in Paris in March? Pin it now, read it again later!