Last Updated on 1st March 2023 by Sophie Nadeau
Paris coffee is something of an institution when it comes to the French Capital. Indeed, there is nothing more cliché- nor perhaps more enjoyable– than sitting at a café en terrace and sipping on an espresso. Perhaps flicking through a well-thumbed novel, or perusing the local paper, all the while watching the people walk by, going about their daily lives. And, of course, there is an art to ordering coffee in Paris.
Please note that one of my top Paris travel tips is that there is often a different price for sitting outside/ inside at a café table as opposed to consuming your beverage at the bar/counter itself. In French, the bar is known as the 'zinc' and it's usually cheaper to consume your drink (sometimes up to €1 off) at the bar.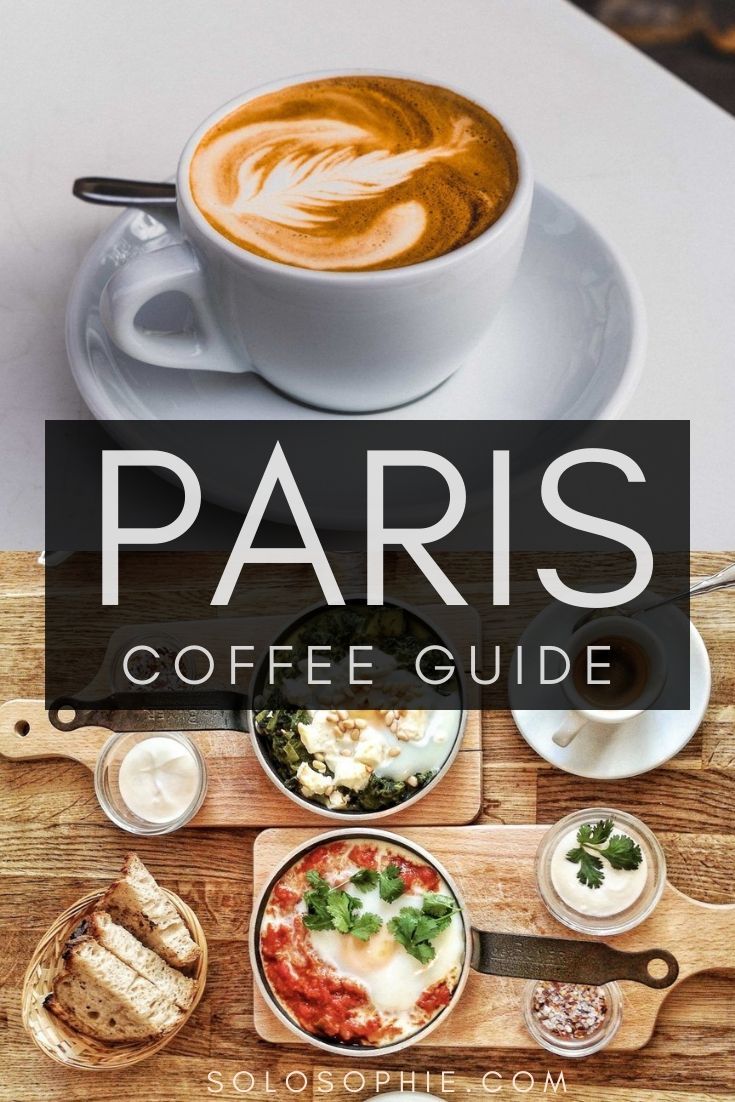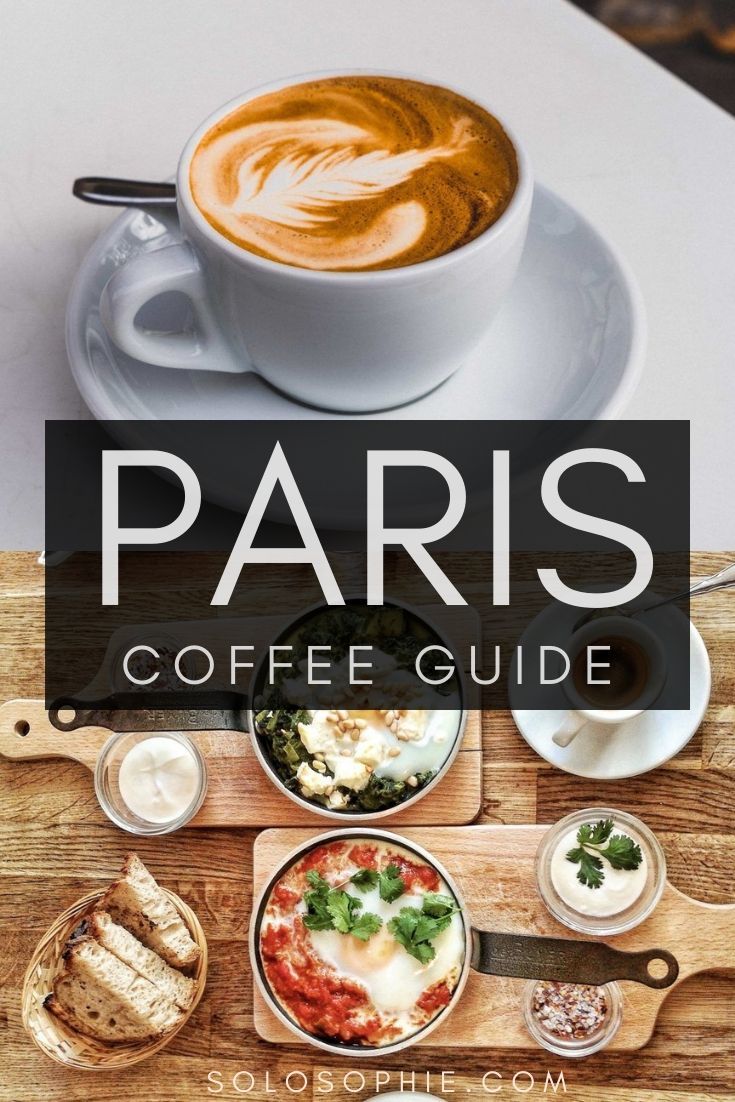 Types of Coffee you'll find in France
When it comes to deciding what kind of coffee you're going to be ordering, then you'll want to ensure you know what's on offer!
Usually, when you simply order a coffee, it will be assumed that you just want an espresso, no milk. However, that doesn't mean that there aren't other options available to you. You just need to know what to ask for…
Un expresso
If you simply ask for 'un café s'il vous plaît,' then you'll probably be given an espresso. Short and to the point, sipping an espresso in an outdoor café in Paris is one of life's greatest pleasures.
Prices of expresso vary around the city, depending on the arrondissement, usually ranging from €1, all the way up to €4. As of 2023, cups of coffee can be as high as €6 in some places, but average around €2 – €2.50.
Une Noisette
Although the word 'noisette' in French means hazelnut, you are not going to be given some fancy hazelnut concoction. Instead, a noisette is an espresso with a little steamed milk in it.
Ordering 'un noisette' and expecting it to contain nuts is definitely a Paris mistake many first time visitors to the city make! The name actually comes from the fact that the colour of milk and coffee resembles the colour of hazelnut.
Café Americain
Order the 'café Americain' and you can expect to receive the kind of regular filter coffee that you'd expect to find back home. However, it's worth noting that not every café in Paris will offer an americano, and so instead you can order 'un allongé'.
Un allongé
If you don't want something as strong, or as concentrated as an espresso, but still want coffee, then 'un allongé' is the choice for you. The allongé typically has double the amount of water as an expresso, with the same amount of coffee.
Café crème
If you're ordering coffee in Paris, then the Café crème is a tasty French creation made using rich coffee base topped with frothy milk. This coffee is much like you standard latté or a cappuccino, albeit typically in a smaller cup… And is only made French style…
You should know before you visit Paris…
Before I lived in Paris, I had this notion that I would eat my weight in pastries while sipping on a cute little espresso cup. All the while trying not to get my nose stuck in that little piece of porcelain (ha!). However, when I arrived it became quite clear that most sidewalk cafés don't serve coffee with pastries.
Instead, there is sometimes the option of purchasing a croissant to go together with your hot drink. More often than not though, coffee is almost always exclusively drunk on its own, without food.
If you want to get a pastry, you'll have to go to a speciality café or visit a patisserie shop. For those with a particularly sweet tooth, a visit to one of the best Paris macaron shops can provide the opportunity to enjoy both a café with a French sweet.
Last but not least, it's worth noting that coffee can sometimes be more expensive after a certain time. For example, many of the more traditional cafés will have a cheaper price if you're ordering coffee before 11 AM as opposed to if you're ordering coffee after this time.
In the same vein, many places won't allow you to order hot drinks in the evenings, particularly if they also operate as a bar. We found this out when my friend tried to order a coffee at 10 PM and was firmly told that only cold soft drinks or alcoholic beverages were available!
On 'rude' French People in Cafés
Even today, there's this horrible misconception that Parisians are rude and offensive. Before I lived there, people would warn me about 'those rude French people' and even went so far as to inform me that it might even make my experience of living in the city of lights that much less enjoyable.
Do you know what's rude? Overgeneralizations about a whole group of people! After living in the city for a year, I can safely say that the assumption French people will be rude to you if you're not French is a gross overgeneralization of an entire population. So go into French cafés, be polite and enjoy all the different coffee combinations on offer!
My Parisian Coffee Address Book
In the past two decades, coffee culture in France has absolutely exploded. Whereas once upon a time visitors to the city would have been disappointed by the quality of coffee served in many Parisian establishments, today the new café scene is vibrant, buzzing, and ever-changing.
For a better glimpse of café culture in the city, check out fellow blogger, Lindsey Tramuta's book, The New Paris. There is a myriad of cafés, coffee shops, and bistros in Paris in which to enjoy a café, as coffee is so-known in French.
So whether you're in search of a sweet escape or on-the-go drink, you'll find all this and more. And if you're in search of an oh-so 'Instagrammable' spot, here's your complete guide to the best cafés in Paris.
Café Oberkampf, 3 Rue Neuve Popincourt, 75011 Paris, France
Situated on the trendy Rue Oberkampf, Café Oberkampf serves delicious food and great coffee. Here, you can try the house specialty, shakshuka, and opt for one of their more unusual drinks.
If you visit, I highly recommend ordering a 'dirty chai'. It's a little like a cross between a chai tea, and latté- and is basically like heaven to drink. Please note that, as of 2021, Café Oberkampf is permanently closed. Instead, you can head to its sister café of Café Méricourt which remains open today.
Café Kitsune, 51 Galerie de Montpensier, 75001 Paris, France
Nestled in the very heart of Palais-Royal, Café Kitsuné is one of the best, and only, places in the city to find a matcha latté. If you're looking for specialty hot drinks, then iced, chai, regular expressos and muc more are availbale in this atmospheric café. I highly recommend getting your drink to take away (à emporter) and enjoying your drink in the Palais Royal park.
Au Vieux Paris d'Arcole, 24 Rue Chanoinesse, 75004 Paris, France
Located on Rue Chanoinesse, which in itself is absolutely full of history, Au Vieux Paris d'Arcole is probably the cutest café in all the city. Nearby, you'll find some of the best-kept secrets of Île de la Cité, including rue de Chantres and 26 rue Chaoinesse, a cobbled yard paved with gravestones!
The Broken Arm, 12 Rue Perrée, 75003 Paris, France
Situated in the very heart of the Le Marais neighbourhood of Paris, The Broken Arm is one of those rare cafés in Paris where you can enjoy both a sweet bite to eat (croissant, cake, pain au chocolat etc.) together with a particularly tasty coffee. The WiFi is also speedy, making the café a great place to sit down and get some work done!
Ordering Coffee in Paris Vocabulary
Even if you don't speak very much French, it's still very much valued and appreciated when you make a small effort. If I could give you just one Paris travel tip, it would be to learn a few words before you go.
In order to help you out during your Paris visit, be sure to bring a simple French phrasebook with you like this one.
You should also know before you go that you never have to purchase water in Paris. Tap water is drinkable, and in order to save money in the French capital, all you need to do is ask for a 'carafe' of water when placing your drink order. Here's a little French Café vocabulary to help you when ordering coffee in Paris:
An expresso, please: 'Un expresso, s'il vous plaît.'

A jug of tap water, please: 'Un carafe d'eau, s'il vous plaît'

The bill/ check please: 'L'addition s'il vous plaît.'

Eat in/ Takeaway: Sur Place/ À Emporter
Enjoyed reading about Paris coffee and how to order coffee in Paris? Pin this article now, read it again later:
Sophie Nadeau loves dogs, books, travel, pizza, and history. A fan of all things France related, she runs solosophie.com when she's not chasing after the next sunset shot or consuming something sweet. She currently splits her time between Paris and London. Subscribe to Sophie's YouTube Channel.