Last Updated on 6th September 2022 by Sophie Nadeau
If there's one film I could watch over and over again, it's Letters to Juliet. Maybe it's the cheese factor, or perhaps it's the all too happy ending. I don't know. Whatever the reason, Letters to Juliet remains one of my favourite films to this day. A heartwarming (if slightly unrealistic story), here are all of the best Letters to Juliet filming locations from the movie!
Letters to Juliet Filming Locations
For those who aren't familiar with the film, Letters to Juliet chronicles the journey of Sophie Hall, a fact checker living in New York. To make the film that much sweeter, the film is set in one of the most beautiful countries in Europe, Italy.
While in the Boot-Shaped country, the plot follows the adventures of Sophie (Amanda Seyfried), together with Claire Smith-Wyman (Vanessa Redgrave), and Claire's incredibly annoying grandson, Charlie Wyman (Chris Egan).
The three pair up for a mission in search of Claire's long lost lover. And if you want to know more about the storyline? Well, you'll have to watch the film for yourself!
If you're looking for even more inspiration about the boot-shaped country, then be sure to check out our best travel quotes about Italy. And if you need to know more information before heading to the South of Europe, check out our top Italy travel tips. Those who want to watch another romantic comedy set in Verona would do well to watch Love in the Villa.
Casa di Giulietta (Juliet's House), 23, Via Capello, Verona
This is one of Verona's most famous attractions and a must-see on any trip to the city. Juliet's House is actually a 14th Century building that has nothing to do with the story of Romeo and Juliet. Still, it makes for a beautiful backdrop and has since become a symbol of love.
Inside a small courtyard in the building's complex, you'll find Juliet's Balcony (probably a 1930s addition to draw in tourists), a statue of Juliet, and a wall full of graffiti where lovers discuss their undying love for one another.
Though, as you might know from the Grafitti in Pompeii article, people have been scribbling their thoughts on walls everywhere for centuries! While entrance to the courtyard is free, if you want to declare your undying love for your beau, you'll have to pay a fee to access the balcony. Local legend tells that if you stroke the statue of Juliet's left breast, you'll find extra luck in love…
A 'fake' brick wall was added to the film set of Casa di Giulietta when filming Letters to Juliet. This was where all of the letters were deposited in Amanda Seyfried's scenes. In real life, there is a small red letterbox where you can deposit notes to the Secretaries of Juliet (yes, just like in the film).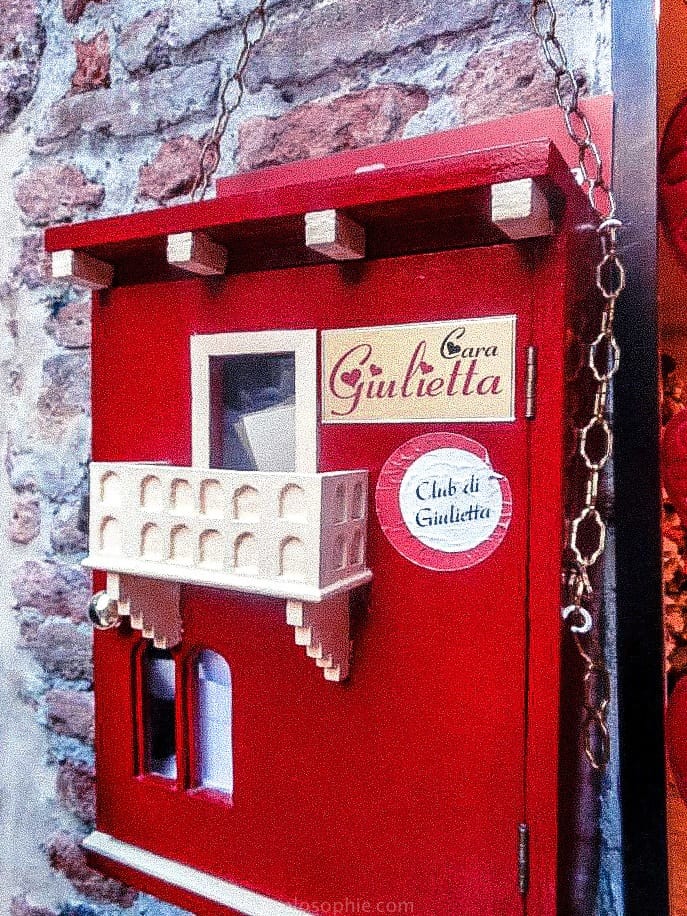 Piazza Delle Erbe (Market's Square), Verona
The city's main square is Piazza Delle Erbe and much of the action and main attractions are focused on this central point. A wonderful place to sit, stop and watch the world go by (with an espresso in hand, of course!), there you'll find an ancient town hall and the Mazzanti Houses which are covered in frescoes.
In Letters to Juliet, Verona is introduced via sweeping panoramic shots of this tourist hotspot, among others. Other highlights of Verona include Juliet's Tomb, plenty of Roman artefacts (including a well preserved Roman arena and a beautiful sparkling river which wends its way through the entire town).
Villa Arvedi, Localita Cuzzano, 3, 37023 Grezzana VR, Italy
'Count Lorenzo's' palace in the film is the impressive and stately building of Villa Arvedi. Of all the Letters to Juliet filming locations, Villa Arvedi may well be the most beautiful. Built in the 17th Century, it's the largest villa within the province of Verona.
The villa itself is located just a few kilometres away from the city. Although the Villa features as a residence in the film, in reality, is owned by a family, who often rent it out for functions and conferences.
Borgo Scopeto Relais, Strada Comunale 14 Siena-Vagliagli, 18, 53010 Castelnuovo Berardenga SI, Italy
Unlike many other of the restaurants and hotels in the film, the luxurious hotel where Sophie, Claire and Charlie begin their search for Lorenzo functions as a real hotel, where you can actually stay!
In the hotel, you can even book 'Sophie's Suite'. Surrounded by rolling Tuscan Hills, Borgo Scopeto Relais is an escape from modern life and a dive straight into luxury. Check prices and availability for the luxury hotel here.
Various locations, Siena
The beautiful town of Siena is well worth a visit and is the setting for a series of scenes in Letters to Juliet where Charlie and Sophie go out sightseeing together. Various tourist hotspots in the town are featured, including the main piazza, and Basilica. Siena is designated as a UNESCO world heritage site and incredibly beautiful.
How to enjoy the best of Verona on a guided tour
If you're looking to experience the city on a more local level, including enjoying the best of the secret spots, then there are plenty of city tours worth booking. For example, this Highlights of Verona Small Group Walking Tour lasts for two-hours and encompasses Verona attractions such as the Roman ruins, plenty of ancient churches, and the world-famous Casa di Giulietta.
Otherwise, this Verona Walking Tour includes a Skip-the-Queue Arena Ticket for those who are interested in stepping inside the millennia-old amphitheatre. Finally, this 2-Hour Historic Tour by Segway is a modern take on the traditional guided city tour and includes destinations such as Piazza delle Erbe, Palazzo Barbieri-Municipio (Barbieri Palace), and Museo Lapidario Maffeiano (Maffei Museum).
Enjoyed reading about the best of Romeo and Juliet filming locations in Italy? Pin this article now, read it again later: