Last Updated on 4th August 2023 by Sophie Nadeau
Have you seen Notre Dame? Been up the Tour Eiffel? Wandered around Montmartre and you're wondering what's next? Well, the Parisian arcades are time-warp galleries of vintage shops and brasseries dotted across the French capital. Here's a guide to the best of the secret covered passages of Paris!
The Paris gallery, otherwise known as the 'Passages Couverts Parisiens' in French has since become such a staple of Parisian life that many pass by the few that remain on a daily basis, without so much as blinking an eye.
However, whether you're in search for off-the-beaten-path Paris, seeking some shelter from the rain, or simply want an alternative place to shop, be sure to check out the hidden arcades of Paris…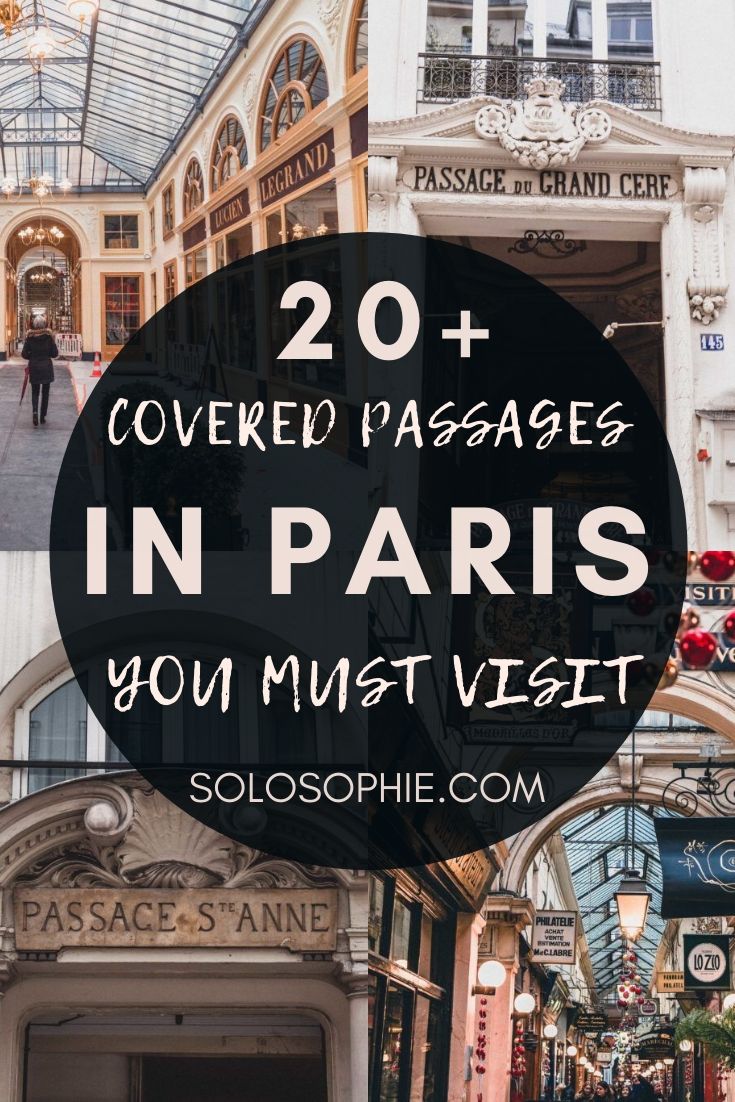 A history of the Covered Passages of Paris
Largely dating back to the 18th and 19th-centuries, the covered passages of Paris were constructed so as to serve as shopping arcades filled with bookstores, independent boutiques, and eateries.
Unfortunately, the mass overhaul of the retail industry by department stores saw the demolishment of many of the passages and today only a handful survive. Between Grand Boulevards and wide terraced streets, the charm of the Parisian passages is not lost on the casual passerby, never mind the curious explorer.
Largely located in the 2nd, 9th, and 10th arrondissements, by 1850 there were some 150 passages, all stained glass windows, steel frames, and ornate decor. A throwback to the Belle Epoque, there is perhaps no better rainy day activity in the city than traipsing through these whimsical walkways…
Covered passages of Paris
#1 Passage du Grand Cerf, 2nd arrondissement
Named for the wooden cerf (stag's head) hanging in the entryway to a pub at the end of the walkway, there's no denying that Passage du Grand Cerf is one of the capital's more luxurious passages. Built on the site of the former Hôtellerie du Grand Cerf, no one knows quite when this gallery was opened to the public.
#2 Galerie Vivienne, 2nd arrondissement
The sumptuous Galerie Vivienne is rather hard to miss… Thanks to its glittering lights, mosaic flooring, and a handful of upscale shops, this must-see Parisian attraction is easily the most famous of the 2nd arrondissement passages and has famously been in competition with the nearby Galerie Colbert.
Built in 1823 at the behest of the President of the Chamber of Notaries, the passage was originally named Marchoux. Swiftly changed to 'Vivienne,' the covered walkway soon attracted a whole host of tailors, confectioners and more. Now, you can still visit the gallery, which is close to Bourse, for free.
Head to Galerie Vivienne during wintertime (especially in the month or two leading up to Christmas) and you'll soon discover that the covered Paris passage twinkles with the illumination of thousands of sparkling lights, particularly post dark.
Otherwise, it's worth noting that one of the oldest bookshops in Paris, Librairie F Jousseaume dates all the way back to the first half of the 19th-century.
#3 Passage des Panoramas, 2nd arrondissement
Of all the Passages Couverts of Paris, Passage des Panoramas is likely my favourite. And not just because this bustling arcade is the oldest arcade in the French capital.
A must-see for philatelists, once under the domed stained glass, you'll soon discover a wide array of stamp collecting shops, vintage postcard stalls (I highly recommend Prins Patrick for picking up vintage postcards of Paris), and a good selection of eateries, including the gluten-free, Noglu.
#4 Passage Jouffroy, 9th arrondissement
For those wishing to book a stay in a covered passage, you need to look no further than Passage Jouffroy in the 9th arrondissement of the city, just across the road from Passage des Panoramas.
After all, it's here where you'll find Hotel Chopin, a well-reviewed accommodation midway along the covered walkway (check prices and availability here).
Elsewhere along Passage Jouffroy, which was constructed in the 1840s and is unique in that it is formed by two long passages connected by a right-angle turn, you'll soon find one of the oldest bookshops in Paris, a toy shop, and the entrance to the wax museum, which is the oldest of its kind in Europe.
#5 Passage Choiseul, 2nd arrondissement
Moving on to the lesser-known and more offbeat les passages of the city, Passage Choiseul is a continuation of Rue de Choiseul, a charming street in the second arrondissement of Paris. Constructed between 1826 and 1827, where the site now stands was once four former Hotel Particuliers.
For those with an interest in French literature, it's worth noting that iconic writer Louis-Ferdinand Céline resided in Passage Choiseul during his childhood.
And it must have made an impression on Céline, for he went on to mention the passage in two of his more famous works, Death on the Installment Plan (Death on Credit), and Journey to the End of the Night.
#6 Galerie Vero-Dodat, 1st arrondissement
Built in 1826, Galerie Veró-Dodat was one of the first covered passages to receive gas lighting, an incredibly modern technology at the time.
All black and white tiling and moulded ceilings, the passage is best-known for its many antique stores. In 1997, the gallery was renovated, restoring Galerie Vero-Dodat to its Neo-Classical heyday.
#7 Passage Brady, 10th arrondissement
Nicknamed locally as 'Little India,' wander through Passage Brady in the 10th arrondissement and you can expect to find a large selection of Indian, Pakistani, Bangladeshi shops. The walkway is around a ten minute walk from Passage Verdeau and was constructed in 1828.
One of the best walkways of Paris, Passage Brady is unique in that it is one of the only passages to be split into two parts; one half is covered, the other can be found on the other side of Rue Strasbourg and is in the open air.
#8 Passage Verdeau, 9th arrondissement
A must-see for anyone looking to purchase an antique or two while in the city, Passage Verdeau in the 9th arrondissement is the place to go.
Built in 1847 and characterised by its mosaic tiled flooring, high glass ceiling, and wooden storefronts, the passage is also home to several stamp collecting shops, vintage postcard vendors, and even some camera sellers.
#9 Passage du Caire, 2nd arrondissement
The longest and narrowest covered passage in Paris can be found in the form of Passage du Caire, which stretches an impressive 360 metres.
Rather unique in the fact that the arcade forms a fishbone shape in its layout, walk inside and there are dozens of fashion retailers and places to purchase clothes.
Named for the Egyptian capital city Cairo, Passage du Caire features three statues of the Ancient Egyptian god, Hathor. Nearby, one of the best specialist supermarkets in Paris, Mexicoeur, sells all kinds of Mexican food products.
#10 Galerie Colbert, 2nd arrondissement
In constant rivalry and competition with nearby Galerie Vivienne since its construction in 1826, Galerie Colbert ended up being rather less successful than its down-the-same-street counterpart.
Today, there are no stores within this covered arcade, meaning that it's one of the lesser-known of the Paris covered passages.
Instead, you can expect to find l'Institut National d'Histoire de l'Art and L'Institut National du Patrimoine and lots of Neo-Classical architecture. Please note that Galerie Colbert is hard to access and is typically closed to the public.
#11 Galerie de la Madeleine, 8th arrondissement
Close to the iconic Eglise de la Madeleine, Galerie de la Madeleine can be found in the 8th arrondissement of Paris. Named for the nearby square and church, this elegant arcade was built in the 19th-century.
Today, the covered passage remains home to a series of boutique stores and food vendors. When entering Galerie de la Madeleine, be sure to check out the ornate cariatydes which flank either side of the entryway.
#12 Passage des Princes, 2nd arrondissement
Little-known and away from the beaten tourist track, Passage des Princes is close to the Opera Palais Garnier Opera House and not far from the ever-so-famous Galeries Lafayette flagship store.
A must-see for anyone who wants to experience vintage toy stores, the true quirk of this passage is that although it was constructed in around 1860, it all but burned down in 1985! Nevertheless, the passage was faithfully reconstructed, detail for detail, and was reopened to the public in 1995.
Today, the entirety of the passage is occupied with a sprawling toy store which stocks everything from video games to stuffed and cuddly toys. More recently, part of the boutique has been giving over to the wizarding world, making it one of the best places to spy Harry Potter in Paris.
#13 Passage Vendôme, 3rd arrondissement
In the 3rd arrondissement of Paris, Passage Vendôme can be found just off the ever-popular Place de la Republique (i.e. the largest pedestrian square in Paris).
Though almost everyone passing through Paris goes through Place de la Republique on a regular basis, few even know of Passage Vendôme's existence. Unfortunately, this once grand walkway has fallen into a state of disrepair, though still several commercial stores.
#14 Passage Puteaux, 8th arrondissement
The shortest covered passage of Paris is that of Passage Puteaux. Opened to the public in 1839, the walkway measures just 29 metres and is named for the passage's financer, Louis Puteaux.
Secret and away from the crowds that inevitably flock to the rest of the 8th arrondissement, the commercial aspect of Passage Puteaux soon failed, though the arcade itself is still in existence. Today, I would not prioritise this of all the Paris passages.
#15 Passage du Bourg l'Abbé, 2nd arrondissement
Close to the Etienne-Marcel metro station, Passage du Bourg l'Abbé is an escape from the hustle and bustle of the crowds of the second arrondissement of Paris.
Located between the Passage du Grand Cerf and Passage de l'Ancre, the arcade was modified in 1828 so as to add a glass roof which would protect shoppers from the rain and wind during bad weather.
#16 Passage du Prado, 10th arrondissement
Boarded up, neglected, and largely forgotten about by Parisians at large, Passage du Prado is in the 10th arrondissement of Paris.
Built in 1785, the passage is named for the Prado Museum in Madrid, Spain. Many of the shops in the passage de Paris have closed up shop, and there's an ongoing petition by local residents to restore the gallery to its former glory.
#17 Passage du Ponceau, 2nd arrondissment
Local restaurants and authentic stores can be found in Passage du Ponceau, a hidden passage in the 2nd arrondissement of the city. While everyone flocks to the Arts et Metiers museum, and its similarly beautiful metro station, few tourists venture inside Passage du Ponceau.
Built in 1826, Passage du Ponceau was then shortened in the 1840s to incorporate the new Boulevard de Sébastopol. Abandoned for decades and used as a storage facility, the passage is once more open to the public, albeit in an altered state.
After all, the glass ceiling and many other original features are simply gone, meaning its one of the least historic of the alleys in Paris.
#18 Galerie de Montpensier & La Galerie des Proues, 1st arrondissement
Located in the Palais Royal, not far from the breathtakingly beautiful Jardin des Colonnes (Colonnes de Buren), Galerie de Montpensier, La Galerie des Proues, and several other covered walkways are sheltered from the elements on three sides of the Palais Royal Complex.
Sheltering a number of shops, boutiques, and eateries, the most famous of these is probably Café Kitsuné, i.e. where you'll find the best matcha latté in the city.
#19 Passage Sainte-Anne, 2nd arrondissement
Located in the 2nd arrondissement of Paris, Passage Saint-Anne is 47 metres long, making it one of the shorter covered passage of the city.
Named for a nearby road, which in turn gets its name from Queen Anne of Austria, wife of Louis XIII, the covered arcade dates back to 1829, when it was built on the site of a former convent.
#20 Passage Ben-Aïad, 2nd arrondissement
Part of the Passage du Saumon in the 2nd district of Paris, Passage Ben-Aïad is so-called after General Mahmoud Ben-Aïad who lived during the 19th-century.
On the place where the covered passage now stands, the Passage du Saumon was built in 1763, albeit without a covered rooftop. Though the passage is private, it can still be admired from the road, through metal iron grates.
#21 Passage Moliere, 3rd arrondissement
Unlike most of the passages of Paris featured here, Passage Moliere is an open-top walkway, albeit still from the 19th-century. A cobbled lane with picture perfect storefronts, this is one of the few ancient walkways still remaining from Paris of old.
#22 Passage de l'Ancre, 3rd arrondissement
Though not technically a covered passageway of Paris, Passage de l'Ancre (Anchor Passage) can be found in Le Marais and is home to hidden gems like the oldest umbrella repair shop in Paris.
Often thought to be the oldest passage in the city, wandering through this tangle of overgrown plants and cobblestones feels akin to stepping back in time.
Please note that, as of January of 2021, PEP's umbrella shop has unfortunately permanently closed. With this being said, it remains possible to wander through this hidden gem of Le Marais and enjoy the flora covered houses and shuttered façades.
#23 Passage du Havre, 9th arrondissement
Though it may not look like it today, Passage du Havre was once one of the original covered passages of Paris. Situated close to the Gare Saint Lazare train station and dating all the way back to 1845, the passage went through a large overhaul in the 1990s, transforming it into a modern-day shopping mall.
Step inside today and you can expect to find 40-plus boutiques and shops (for the most part, high street brands). Located close to the Grands Magasins of Galeries Lafayette and Printemps, it's worth noting that Passage du Havre is well-decorated during the festive period with twinkling lights and elevated ornaments.
#24 Cour du Commerce Saint-André, 6th arrondissement
Truth be told, one of the lesser known covered Passages of Paris is to be found in the 6th arrondissement of the city, somewhere between the illustrious Latin Quarter and not far from the über luxe district of Saint Germain des Prés.
Cour du Commerce Saint-André is a delightful pedestrianised cobblestone lane hidden amongst a muddle of cafés, bars, and historic theatres. Home to a wide selection of boutiques and brasseries, this is one covered passage in Paris you won't want to miss on your next French adventure!
#25 Passage de Beaujolais
Beaujolais is not only a wine region of France, but also the name of a partially covered tiny passage in the heart of the 1st arrondissement of the city. Just 17 metres long and 1.5 metres wide, half of the passage is covered as it stretches from rue de Montpensier to rue de Richelieu, not far from Palais-Royal.
#26 Passage des Deux-Pavillons
Yet another Paris passage which is only partially covered is that of the Passage des Deux-Pavillons. Situated in the 1st arrondissement of Paris, the passage connects two particularly cute roads in Paris, 5, rue des Petits-Champs and 6, rue de Beaujolais.
This passage is located just a few hundred metres away from the Passage de Beaujolais and dates back to the first half of the 19th-century.
Lost Paris Passages
Of course, while there were dozens of passages de Paris once upon a time, today only a few remain. As such, many of the quirkiest of the Passages Couverts de Paris have been lost to the ages of time. Here's a glimpse of some of the lost arcades and alleys of Paris:
Passage de l'Opera
Constructed in 1822, the Parisian arcade was barely up for more than a century before it was destroyed in 1925. The passage was named for a nearby opera house, that of Opéra Le Peletier, which is sadly also no longer standing.
Galerie du Baromètre was one of three branches of the lost passage and would have linked rue Drouot with rue Le Peletier.
Tips for visiting the Passages Couverts in Paris
Whether you're visiting the city for the first or fifth-hundredth time, check out my very best Paris travel tips. Each of the Parisian galeries has a different opening time, especially when it comes to festivals, bank holidays, and the like. As such, be sure to check what time the passage you're planning to visit before you head out.
Other covered passages in Europe
If you're a fan of ornately covered arcades, then you'll be delighted to discover that other cities in Europe have their own covered passages, though none have quite as many as Paris! Other cities which have their own passages include the city of Nantes and the Belgian capital city of Brussels.
Watch the covered passages of Paris video
Enjoyed reading about the best of covered passages of Paris? Pin it now, read it again later:
Sophie Nadeau loves dogs, books, travel, pizza, and history. A fan of all things France related, she runs solosophie.com when she's not chasing after the next sunset shot or consuming something sweet. She lives in London but travels as much as she can. Subscribe to Sophie's YouTube Channel.