Last Updated on 2nd March 2023 by Sophie Nadeau
When you imagine a quintessential Jardin à la Française, you likely think of the Palatial gardens at Versailles, the park of Fontainebleau, or indeed the Tuileries gardens in the heart of Paris proper. Well, all of these French spaces were designed by André Le Nôtre, a man so influential in the art of the French formal garden, that it's believed he even influenced Charle l'Enfant's Plans for the US Capital close to a century following his death.
Trickling fountains, symmetry heavy layouts, and an attention to detail that's easily recognisable to the trained eye: André Le Nôtre gardens are unmistakably French and are the product of a man who is widely regarded to be the father of Formal Gardens in France as we know them today.
Here's a history of the famous gardener of André le Nôtre, as well as where you can see some of his best known landscaped gardens today…
Who was André Le Nôtre?
André Le Nôtre lived in France during the 17th-century and thanks to his breathtaking designs, has since become a symbol for gardening in France.
Some may even go as far as to say that Le Nôtre is for French Gardening what Capability Brown has been to landscaping throughout Britain. After all, André was the principal gardener to Louis XIV, i.e. the Sun King who transformed Versailles into the palace it is today.
Born in Paris in 1613, Le Nôtre was pretty much born into gardening thanks to a heritage as the son and grandson of Royal Park Supervisors who likely worked in the gardens of the now-demolished Palais des Tuileries. As he grew older, Le Nôtre took over from his father to become the head gardener of the Tuileries in 1637.
However, it was his collaboration with other major designers of the time such as Charles Le Brun on the Baroque Château de Vaux le Vicomte in the 1650s that saw Le Nôtre rise to true fame.
Nicolas Fouquet's grand vision for Vaux was so sumptuous that the King of the time, Louis XIV confiscated the Mansion-house for himself and threw Fouquet in jail for the remainder of his life.
Following the completion of Vaux le Vicomte in the 1660s, André Le Nôtre was engaged in the services of Louis XIV. From there, he went on to redesign grand gardens such as that of Fontainebleau, Tuileries, the Grand Trianon, and of course, Versailles.
Other French nobility and well-to-do soon enlisted the services of Le Nôtre, and as a result, he worked on Sceaux, Saint-Cloud, and Chantilly.
Though gardening is what André is best-known for today, over the course of his lifetime, Le Nôtre became an avid collector of artworks, proving to be rather shrewd in his selection of pieces to purchase and acquire. In time, his collections soon boasted two Sarcophagi and a sculpture by Michelangelo.
Le Nôtre was even a fairly talented painter himself, having trained under Simon Vouet, who was a painter for Louis XIII. Of course, Le Nôtre also led a personal life.
By all accounts, André appears to have been an upstanding citizen. And as far as records suggest, he was likely faithful to his wife Françoise, with whom he had three children. Tragically, they all died in childhood, leaving André Le Nôtre with no heirs.
Many tales regarding Le Nôtre paint him as a man who was humorous and had a particularly fond love of fountains; a tidbit of information that anyone who has experienced a Le Nôtre garden has little reason to doubt.
Le Nôtre died in his 80s in 1700. In recent times, the film A Little Chaos (purchase your copy of the film here) directed by Alan Rickman is a charming film featuring André Le Nôtre, though is largely fictitious in plot!
Where to See and Visit Le Nôtre Designed Gardens
The Le Nôtre Gardens of Vaux-le-Vicomte
For those seeking to enjoy the delights of a Le Nôtre garden for themselves, there is perhaps a no better place to start than by beginning in the location of the project from which Le Nôtre himself first garnered national fame.
The magnificent Château of Vaux-le-Vicomte is widely regarded to be the birth of the Baroque and is a sumptuous blend of 17th-century furnishings and delightful decor.
The sprawling gardens themselves were designed by Le Nôtre and with their many water features, perfectly maintained borders, and unmistakable symmetry, are the signature of the famous gardener himself.
Today, highlights of the green space at Vaux include pools, gravel walks, and a larger than life-sized statue of Hercules.
Book now: Fontainebleau & Vaux-le-Vicomte Châteaux Day Tour from Paris

The Le Nôtre Gardens of Versailles Palace
Perhaps the most famous of day trips from Paris is that of Versailles. Perhaps most striking feature about what is perhaps the largest French formal garden of all times is the sheer volume of fountains to be found dotted all across the park.
At one point, there were around 2,400 fountains at Versailles, though rather humorously there was never quite enough water for all of them, all at once!
The Le Nôtre Gardens of the Grand Trianon, Versailles
Of course, the imposing Palace of Versailles is not the only former royal residence to be found in the town of Versailles. Instead, the Petit Trianon and Grand Trianon are the mansion-houses where French Royalty would have 'escaped' from the court of the great palace.
Louis XIV enlisted Le Nôtre to design the gardens of the Grand Trianon, and today they remain a haven of gravel pathways and ornate fountains.
Book now: Palace of Versailles and Gardens Full Access Ticket

The Le Nôtre Gardens at Château de Chantilly
One of the more magical escapes from Paris today is that of Chantilly. Home to attractions such as a striking fairytale castle, pretty town, and sprawling domain that even boasts the hamlet that gave Marie Antoinette the inspiration for the Hameau de la Reine, this is one destination that shouldn't be missed off your France bucket list.
Otherwise, you should know that André Le Nôtre played a large part in the creation of the gardens, though of course the grounds were sculpted over the centuries.
While there is an English-style garden, the French-style gardens at Chantilly were the brainchild of Le Nôtre. Featuring expansive water mirror features that play with light, it's alleged that this garden was Le Nôtre's favourite creation.
The Le Nôtre Gardens of Fontainebleau
For those who are looking for a breathtakingly beautiful palace to visit near Paris without the crowds of Versailles, the Fontainebleau Domaine is an absolute must.
Home to an impossibly long canal, the horseshoe-shaped staircase where Napoleon addressed his men for the last time, and an imposing set of Papal rooms, Fontainebleau is simply stunning.
The Gardens themselves were originally created during the reign of François I, before being redesigned during the reign of Henri IV.
Eventually, a full overhaul was undertaken by Le Nôtre from 1660-1664. During the renovations, the herb gardens and water basins were all redesigned, though little of the Le Nôtre redesign survives to this day.
The Le Nôtre Gardens at Parc de Saint Cloud
Though the château of Saint Cloud has long since been demolished, the park remains a green oasis of space that provides the perfect escape from the bustling city. Le Notre was key in designing the layout for the formal gardens, much of the layout which is still in existence to this day.
Another great landscape gardener of the time, Antoine Le Pautre, was responsible for designing the Grande Cascade in the 1660s. This, too, survives to this day.
The Le Nôtre Gardens of the Château at Saint-Germain-en-Laye
Nowadays, Saint-Germain-en-Laye is a pleasant town at the end of RER Line A. Characterised by its pretty market square, many independent eateries, and small house museum boasting the birthplace of Debussy, the Château of Saint-Germain has since been transformed into an archaeological museum.
And when it comes to the terrace gardens of the Château, it's fair to say that André more than left his mark. Still surviving to this day, the terrace offers panoramic views over the River Seine and the Western side of the city of Paris. Stretching a staggering 2.4 km in length, the terrace is formed of the little and large terraces.
The Le Nôtre Gardens at Sceaux
Truth be told, one of the most beautiful and lesser-known of the Châteaux in the Île de France region is that of Sceaux. Pretty and located along the RER B line, this stunning palace is much smaller than many of its other counterparts, though is by no means tiny by any stretch of the imagination.
André Le Nôtre was commissioned to lay out the park at Sceaux, much of which still survives to this day. Free to visit, the sweeping terraces and grandiose fountains are a true testament to the famous Formal French Garden landscaper's work. During the spring months, the park also boasts a cherry blossom orchard that's certainly worth visiting.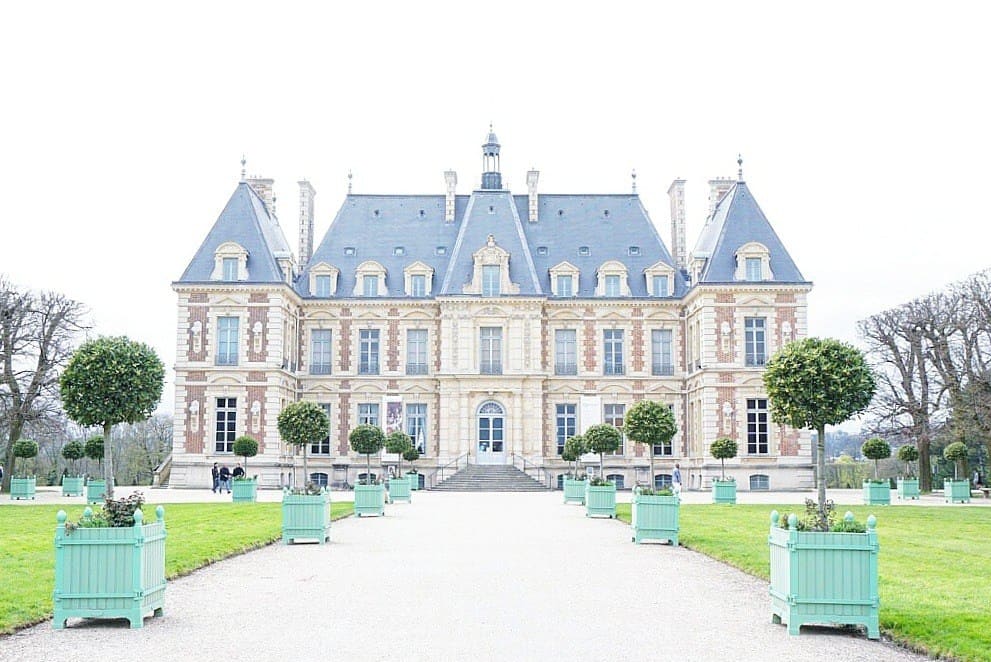 Urban planning in Paris
Indeed, André Le Nôtre was not just the mastermind behind the formal French garden as we know and love it today, but was also indispensable in many central Paris urban planning projects that you can still see now. Most prominently of all, Le Nôtre extended the westward vista of the Jardin des Tuileries, i.e. what is now the Champs Élysées.
Enjoyed reading about where to find the best of André le Nôtre in France? Pin this article now, read it again later:
Sophie Nadeau loves dogs, books, travel, pizza, and history. A fan of all things France related, she runs solosophie.com when she's not chasing after the next sunset shot or consuming something sweet. She currently splits her time between Paris and London. Subscribe to Sophie's YouTube Channel.