Last Updated on 6th January 2023 by Sophie Nadeau
Once frequented by Van Gogh, the covered walkway of Oudemanhuispoort is now home to a large selection of stalls selling second-hand books (a Boekenmarkt). Here's your guide on how to visit (and shop in) Oudenmanhuispoort for yourself…
Located in a narrow walkway that runs between quintessential Dutch canal houses, Oudemanhuispoort can literally be translated as 'Old Man's House Passage' and the interesting name is a tantalising glimpse of the arcade's rich history.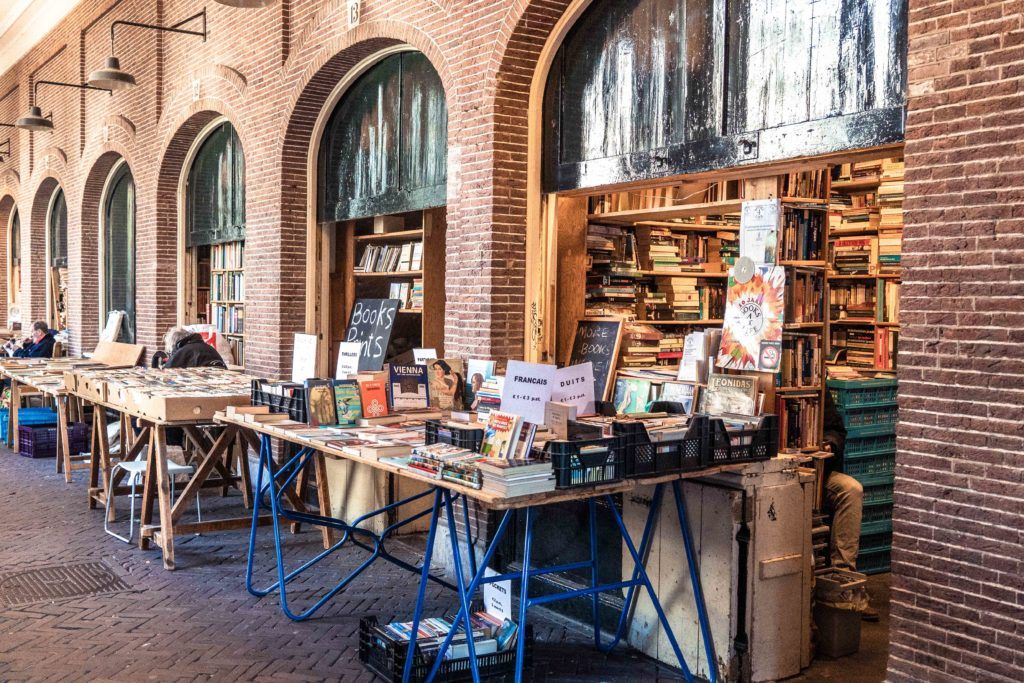 Oudemanhuispoort: A Secret Covered Passage in Amsterdam
Dating all the way back to the 17th-century, this passage gives way to a building of the name 'Oud Man Huis', 'Old Man House' Once operating as an almshouses for the elderly, the now University of Amsterdam building (dedicated to Amsterdam Research Institute for Legal Studies) can be found halfway through the passage when the brickwork opens up and reveals the hidden green space.
Over time, the building has served plenty of other purposes. This includes time as a hospital for cholera patients, a convent, and an arts academy. At one point, the structure even housed several paintings by Dutch greats like Vermeer and Rembrandt. In time, this collection would go on to form the basis of what is now the impressive Rijksmuseum on Museumplein.
If you want to see a similarly beautiful set of almshouses in the city today, be sure to head to some of these beautiful Amsterdam hofjes. Meanwhile, the stunning secret courtyard in front of Oudemanhuispoort is now filled with benches and is the perfect place to relax, or at the very least, peruse through your new book purchases.
During the mid-18th-century, the passageway that once led to the almshouses was repurposed for selling goods. Sellers would then vend their wares like jewels and goods, right up until the point where the City of Amsterdam relocated the daily book market from Rembrandtplein to Oudemanhuispoort.
From 1877 to the 1970s, professional blade sharpeners also operated in the area. In more modern times, it's said that several artists, including Vincent Van Gogh, were so drawn to the passage, and in particular, the beautiful Japanese prints found there, that it's said to have influenced the course of his artwork forever.
Today, you can shop in the many stalls that line both sides of the passages between Oudezijds Achterburgwal and Kloveniersburgwal. The fact that Oudemanhuispoort is covered also makes it a great rainy day activity in Amsterdam.
How to visit Oudemanhuispoort
Free to wander along, most books found in the second-hand book stalls are written in Dutch, though a few English volumes and other foreign language tomes are hidden among the mass of books. All stalls are cash only and as well as books, you can expect to find maps, sheet music, and even plenty of old prints and posters.
Be sure to bring enough cash as though some books can be bought for as little as a few euro, other wares are well over a hundred euro, and the average price of books tends to be around €10-15.
Book vendors are generally open on a daily basis from around 11:30 am – 6:00 pm on account of the fact that the University of Amsterdam requires that vendors open at least four times a week. All in all, this book market is one of the best book markets in Europe. Oudemanhuispoort is even open during Sunday in Amsterdam.
Enjoyed reading about how to visit the Oudemanhuispoort Book Market? Pin it now, read it again later:
Sophie Nadeau loves dogs, books, travel, pizza, and history. A fan of all things France related, she runs solosophie.com when she's not chasing after the next sunset shot or consuming something sweet. She currently splits her time between Paris and London. Subscribe to Sophie's YouTube Channel.