Last Updated on 5th April 2022 by Sophie Nadeau
Île de la Cité lies in the very heart of Paris, separated from the rest of the city by the Seine on its own private island. Home to world-famous sites such as Notre Dame and Sainte Chapelle, it also houses a former prison… And you definitely can't go wrong by spending at least a few hours of your time in Paris getting to know the area. Here's a quick guide to the best things to do in Île de la Cite…
Psst. If you're planning to visit Paris, then we've created a gorgeous 100+ page eBook full of beautiful photos and insider tips by a local. Included you'll find hidden gems, arrondissement guides, walking tours, suggested itineraries, and more. Find more information here.
Why you must visit Île de la Cité on your next Parisian adventure
Île de la Cité is not only the physical heart of the city but also its historic one, meaning that it's full of myths and legends. After all, it was here several millennia ago where people first chose to put down roots, leading to the city we all know and love today.
During Roman Times, the Romans set up camp close by, in the district that is now known as the Latin Quarter. Today, you can follow in the footsteps of the Romans in Paris, if only you know where to look. After all, vestiges from some two millennia ago can still be spied in various spots across the city.
Otherwise, back on Île de la Cité today, it's worth noting that there are a plethora of hidden gems worth uncovering, not to mention some of the best-preserved medieval architecture that the city has to offer. It's also worth noting that this arrondissement of Paris offers some excellent foodie experiences, including plenty of quaint Parisian cafés!
Best things to do in Île de la Cité (that you certainly won't want to miss!)
#1 Notre Dame
6 Parvis Notre-Dame – Pl. Jean-Paul II, 75004 Paris, France
Please note that due to the terrible fire at Notre Dame, the cathedral is closed until further notice. However, the ecclesiastical building can still be admired from afar, especially from along the banks of the River Seine.
Notre Dame is not only one of the most iconic sites the city has to offer but also at the very heart of Paris itself. Its world-famous flying buttresses and French Gothic architecture may be what make the building so famous, but it's definitely worth taking a peek inside the Cathedral too.
A trip inside is free, and it usually takes no more than twenty minutes to queue. There are also free daily tours in various languages, signposted outside the front of the cathedral.
#2 Paris Point Zero
Parvis Notre-Dame – Pl. Jean-Paul II, 75004 Paris, France
Paris Point Zero is the city's true centre. Its location in the middle of the Parvis Notre Dame means that many tourists pass by, oblivious as to what lies under their feet. However, this is the point of Paris from which all other points and distances in France are measured. People often leave their change here, hoping it may bring them good luck…
#3 Sainte Chapelle
8 Boulevard du Palais, 75001 Paris, France
Originally built to house some of France's most treasured Saint relics, today Sainte Chapelle remains one of the finest preserved examples of stained glass medieval windows and architecture that France, and indeed Europe, has to offer.
Having the relics in his possession made the already Powerful French Monarchy the head of Christianity in Western Europe. This made Sainte Chapelle not just a pretty place to look at, but of vital strategic importance in the history of France.
Though the remaining French relics may now be housed in Notre Dame (notably the Crown of Thorns- though other relics were lost during the French Revolution), the two-tiered chapel is still well worth a visit. There are 15 windows in the Upper Chapel, each 15 meters high and altogether depicting 1,113 scenes from the Old and New biblical Testaments.
Though the lower Chapel (the one you first enter) was originally intended for servants, it is still more luxurious and sumptuous than most French Châteaux! If you want to visit for yourself, then you may well consider booking a ticket in advance like this one.
#4 Conciergerie
2 Boulevard du Palais, 75001 Paris, France
The Conciergerie sits proud and imposing above the Seine. With turreted towers and a fancy façade, you would never guess that this building was once a former prison. In actual fact, it even housed Marie Antoinette before her execution.
Sat right next to Sainte Chapelle, the Conciergerie sits on the site of a former Merovingian Palace, and was once known as 'Palais de la Cité'. The palace was a space for Royals right up until the 14th Century when King Charles V abandoned the Royal Residence in favour of the nearby Louvre Palace (now the largest art museum in the world).
Today, the Conciergerie contains the Hall of the Guards, the largest Gothic Hall in Europe. Visit during opening hours and you can learn all about the history of Île de la Cité, as well as the wider city of Paris, including everything there is to know about the French Revolution. Purchase your Sainte Chapelle and Conciergerie combined tickets here in advance.
#5 Oldest Clock in Paris
2 Boulevard du Palais, 75001 Paris, France
Of all the places and points of interest in this guide to Ile de la Cité, this may well be the one most missed. Affixed to the street facing side of the Conciergerie, you'll find the oldest clock in Paris. Shining with gold embellishments, it's hard to believe that this clock has stood in the very same place since the 14th-Century.
Though it was admittedly cleaned up a little and restored in 2012, making it once again shine brilliantly. The clock even escaped unscathed through the French Revolution, when many sumptuous sites and places across the city were dismantled for their scrap value.
The adjacent road, lying by the Seine, 'Quai de l'Horloge' is even so-called because of this iconic clock. So next time you're walking along Boulevard du Paris, make sure to look up as you might just spot this 1370s masterpiece…
#6 Flower Market (Marche aux Fleurs et aux Oiseaux)
Allée Célestin Hennion, 75004 Paris, France
A little over the road, close to the Conciergerie and the Oldest Clock in Paris, you'll find the iconic Île de la Cité flower market. Here you can pick up whatever flowers happen to be in bloom during your visit to Paris (my personal favourite are all of the varying types of peonies that look like paper and smell simply divine…)
The market has enthralled amateur flower lovers and green-fingered gardeners alike since 1830. Today, many of the stalls are held in Green Pavillions which were first installed in 1900. The Flower market is free to visit and open every day asides from Monday.
#7 Rue Chanoinesse
Rue Chanoinesse, 75004 Paris, France
If you're looking for a glimpse of medieval Paris, then look no further than Rue Chanoinesse. With fewer tourists than the rest of the area, views onto Notre Dame and some of the best eateries the area has to offer, it's definitely worth leaving the beaten track of Parvis de Notre Dame to check out this wonderfully preserved street.
The street was once home to an order of Monks, who are partially responsible for the preservation of this medieval Snapshot. Rue Chanoinesse is also home to sights such as the Gravestone Courtyard of Paris, the cutest Café in the city and a passage to one of the narrowest streets the city has to offer. The street is also associated with the affaire de la rue des Marmousets.
#8 Gravestone Courtyard
26 Rue Chanoinesse, 75004 Paris, France
It would seem that you are never far from the macabre in Paris. And even the quaint street of Rue Chanoinesse has its own dark past. Situated between two bars, you'll find a lovely maroon door.
However enter it (the courtyard is private and its hard to gain access unless you're 'in the know'), and you'll find another side of Paris. For, lying on the floor, you'll find the remains of gravestones.
Slightly worn, you can barely make out much of the gothic script which must have once covered the entire floor. The Gravestone Courtyard is paved with grave markings taken from an 18th-century church which was demolished during the grand Haussmann architectural reforms in the 19th- century.
#9 Au Vieux Paris d'Arcole
24 Rue Chanoinesse, 75004 Paris, France
Quite possibly the cutest café in Paris, Au Vieux Paris d'Arcole is covered in wisteria and Oh so Parisian. Stop here to enjoy a coffee (or even a glass of French wine). I'm told the food here is particularly good (one of my closest friends even chose this spot for her Valentine's Day meal).
#10 Hôtel Dieu
1 Parvis Notre-Dame – Pl. Jean-Paul II, 75004 Paris, France
The oldest hospital in Paris can be found steps away from Notre Dame Cathedral and dates back many centuries. But what many visitors to the 4th arrondissement of the city don't know is that you can actually visit the interior courtyard of this building for free! Filled with beautiful arches and a secret garden, it's a great escape from the hustle and bustle of the nearby Parvis Notre Dame.
If you're looking to scratch beneath the surface and discover more of what Paris has to offer, then you'll want to check out some of the best-kept secrets of Île de la Cité. From a home to alleged to be where two fated medieval lovers resided to several lots of fake medieval architecture, there's no shortage of hidden gems to discover on Île de la Cité.
#12 Have a picnic in Square du Vert-Galant
Situated directly below Pont Neuf, the pretty Parisian park of Square du Vert-Galant was actually derived from the quays which were needed to anchor the stone bridge in place. Named 'green gallant' for Henry IV, the space is perfect for a picnic during the summer months.
My girlfriends and I often joke that the weeping willow which presides over the park is the 'perfect spot for a first kiss'. This spot can be found on the most westerly tip of Île de la Cité and is easily one of the best parks in the entirety of Paris.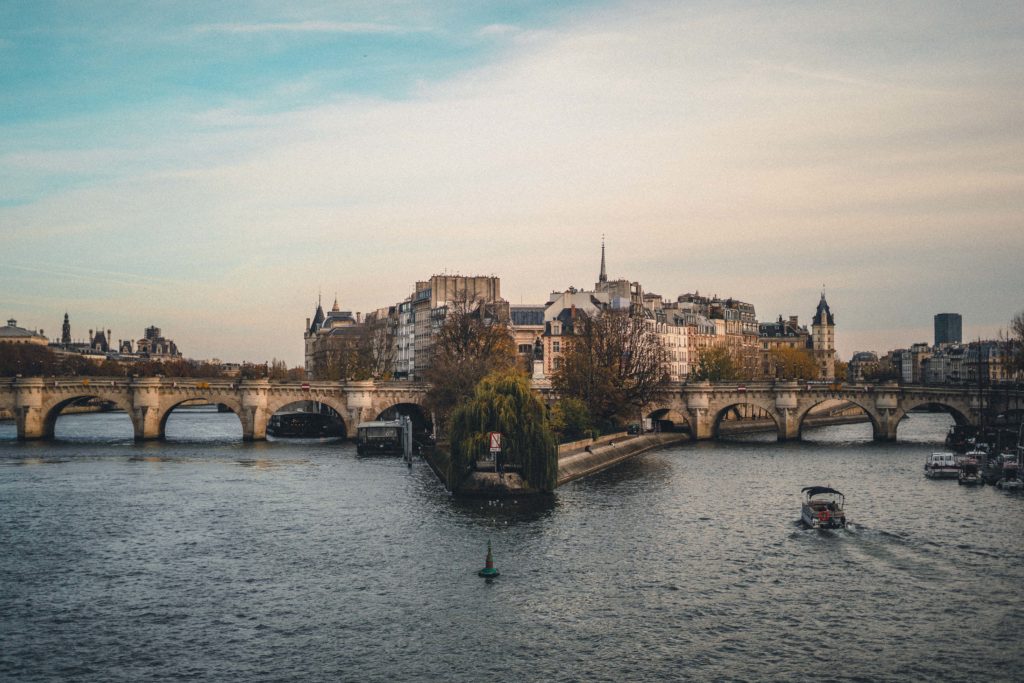 #13 Discover the Paris bouquinistes
Due to the abundance of green stalls lining both banks of the Seine, it's often said that the well-known river "runs between two bookshelves". So iconic is this scene, that in 1991, the Paris bouquinistes were made a UNESCO world heritage site.
#14 Relax in Square Jean XXIII
One of the most tranquil spots in the city is actually where visitors would least expect. Square Jean XXIII can be found lying in the shadow of Notre Dame, the illustrious Gothic Church that is so iconic that it has since become one of the symbols for Paris itself.
The park is home to beautiful cherry blossoms in the spring and is a beautiful place to relax all year 'round. Please note that, unfortunately, due to the terrible fire at Notre Dame in 2019, the park is closed until, further notice.
Enjoyed reading this guide to the best things to do in Île de la Cité? Pin it now, read it again later:
Sophie Nadeau loves dogs, books, travel, pizza, and history. A Francophile at heart, she runs solosophie.com when she's not chasing after the next sunset shot or consuming something sweet. She splits her time between Paris and London and travels as much as she can! Subscribe to Sophie's YouTube Channel.