Cherry blossom, longer days, and a higher reading on the thermometer: Paris in April is easily one of the best times to frequent the French capital, and not just because the crowds are lower than in the summer months and everything is actually open.
Other reasons to go during mid-Spring are spending days exploring the city's many outdoor attractions, as well as the chance to go sightseeing like a local before the rest of the tourists arrive come summertime. Here's your go-to guide for what's on and the best things to do during April in Paris!
Please note that the 14th of April and the 17th April are public holiday days. These days are Good Friday and Easter Monday. During these public holidays, most shops will be closed, and supermarkets which do still remain open will operate at reduced hours.
Paris weather in April
Perhaps most fitting for describing the weather in April is the French idiom "Une hirondelle ne fait pas le printemps." Literally translated as 'one swallow does not a summer make,' this phrase indicates the volatile and unpredictable weather of the French capital when it comes to mid-spring.
Though days are longer and the temperature may be warmer, showers are frequent. The average temperature is around 11 degrees Celsius, with highs in the mid-teens and lows around 7.
In 2019, temperatures as high as the twenties were recorded, so be sure to pack lots of layers! Mornings and evenings can still be particularly chilly and patches of rain showers are not uncommon.
What to wear and pack for Paris in April
A warm jacket
You'll want to leave the summer dresses and shorts at home for now. While a light jacket is typically fine during the daytime, the temperature can plunge fairly significantly post-sunset and so you'll want to bring along a warm-ish jacket to combat the cold.
Comfortable shoes
Whether it's discovering a new district or wandering around a museum, when it comes to visiting the French capital, you'll likely be on your feet all day. I typically travel with a pair of tennis shoes like these ones and a pair of chunky heel boots. This way, both pair of shoes are comfy, while I still have something a little nicer to wear in the evenings!
An umbrella
If there's one thing I always forget to pack during my travels around Europe, it's an umbrella. However, due to frequent rainfalls in April (they don't call them 'April showers' across the Channel in England for nothing!), you'll want to have a sturdy one handy.
A scarf
If there's one travel item I literally never travel without, it's a scarf (even in the summer!) Though in April you'll likely want to keep it close so you can wrap up warm in the evenings, a scarf can also double as a blanket/ pillow on the plane and a shawl for keeping warm with an evening dress.
What to do in Paris in April
La Foire du Trone
Fun for all the family, this annual festival is held each year in April. The fairground is the oldest ongoing traditional funfair of its kind in France and dates all the way back to 957 when it was held in Lothaire. Today, the fair comprises of 350 stalls, rides, and attractions held on the Pelouse de Reuilly. In 2022, the funfair will take place from the 1st April to the 29th May.
Go in search of cherry blossoms
Though the magnolia in the city are starting to go over, there's no denying that some of the fluffiest cherry blossom trees are in full bloom during the first two weeks of April.
Some of the best places to enjoy the blossom in Paris are on the trees next to Notre Dame, as well as those beside Shakespeare and Co. To gauge exactly when to visit, keep an eye out on social media.
Be on the lookout for wisteria
Though more of a May activity than something to do in April, weather dependant the wisteria in Paris may well be out before the end of April. Some of the best places in Paris to spy the purple trailing blooms are on Rue de l'Abreuvoir in Montmartre and on the façade of Au Vieux Paris d'Arcole on Ile de la Cite.
Take a day trip to Château de Sceaux
The best time to take a day trip to the fairytale-like Château de Sceaux is easily in April. After all, it's here in the French castle's grounds where you'll discover an orchard planted with cherry blossom trees that tend to flower in mid-April. Though not as much of a 'hidden gem' as just a few years ago, be sure to head there earlier in the day and mid-week so as to enjoy the blooms without the crowds!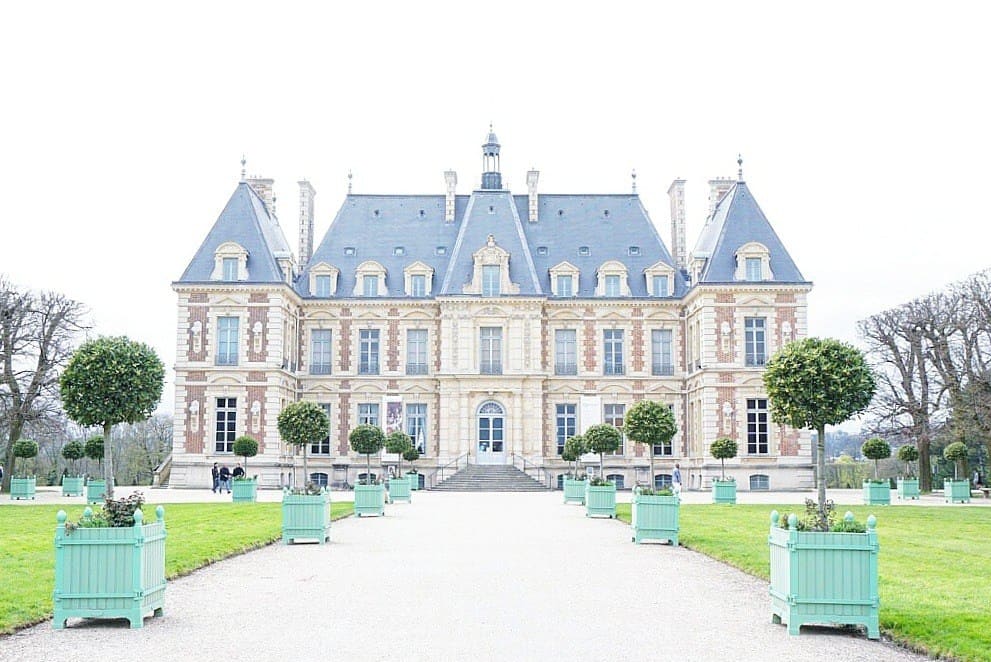 International Rare Book & Autograph Fair
This annual event is every bibliophile's dream and there will be over a hundred and fifty exhibitors. The fair is held in the temporary Grand Palais on the Champ de Mars.
The dates for 2022 have not yet been published. If you're unable to attend, then there are plenty of other literary experiences to be had in Paris, including scoping out the Bouquinistes along the River Seine.
Visit the annual Paris Book Fair (moved to April)
Speaking of books, yet another yearly book fair is held in the French capital and it's said to be one of the most popular book-related festivals in the world. In mid-March, all manner of books and bibliophiles descend on the city to celebrate written word!
More details about the fair can be found on the Livre Paris website. In 2021, the annual book fair was cancelled. In 2022, the book fair has been moved to April in Paris and will take place from the 21 to 24 April 2022.
Enjoy the green spaces the city has to offer
With its longer days and the number on the thermometer ever-creeping upwards, there's no better time to enjoy all of the little pockets of calm and parks throughout the city.
Some of my all-time favourite parks in Paris include the Parc des Buttes Chaumont (complete with 19th-century follies and even a grotto) and Square René-Viviani (a park constructed on a former cemetery).
The Paris Marathon & The Color Run
Two famous runs take place in the city in April; the Paris Marathon and the Color Run, an event inspired by the Holi Festival. While the marathon starts at the Arc de Triomphe and comprises of over 42 km, finishing at Bastille, the Color Run starts at Hôtel de Ville and ends at the Eiffel Tower. The Paris Marathon will take place on the 3rd April 2022.
Easter in Paris
In 2022, Easter Sunday will be on Sunday the 17th April. The event is marked in Paris by a series of events, including Easter Egg hunts in the Palais Royal and at various other locations throughout the city. Disneyland Paris also has a whole host of Easter-themed events. Check here for Disneyland Paris prices.
Tours in Paris you'll love this month
Free and self-guided Latin Quarter walking tour
If you're looking for a glimpse into Paris' Roman history, as well as wander through the city's medieval past, then you may well want to head to the 5th arrondissement of the city. For more details, check out this free and self-guided Latin Quarter walking tour.
Macaron making in Galeries Lafayette
For those with a sweet tooth, learning to make macarons at one of Paris' most famous department stores is a bucket list item. These cooking classes typically last for 1.5 hours and ensure that you come away with your own tasty box of French cookies! Check here for prices and to book the class now.
Le Marais: Pastry and Chocolate Food Tour
If you're after a guided foodie experience together with a tour guide, then this foodie tour includes hidden gems such as bakeries and other food tasing experiences. The tour typically lasts for three hours and is during the afternoon. Check here for prices and to book the class now.
2 Hour Seine Dinner Cruise
Incredibly well-reviewed, for the ultimate romantic experience in the City of Love, be sure to book a seat on this two-hour dinner cruise. Included is a three-course meal and enjoying iconic Parisian landmarks (the Eiffel Tower, Notre Dame) from the water. Check here for prices and to book the tour now.
Enjoyed reading about the best things to do in Paris in April? Pin it now, read it again later: