Last Updated on 15th June 2022 by Sophie Nadeau
Swiping your boarding pass, clearing security and boarding the train. It's as simple as that when you choose Eurostar. Not to mention that you go directly from city centre to city centre when you travel by train. Here is a Eurostar Standard Premier review, as well as a complete look at my experience on the train!
What is the Eurostar?
With high speeds topping 300 km/h, Eurostar is a high-speed railway line connecting plenty of cities in France, England and Belgium. All of its trains also traverse the Channel Tunnel, making the Eurostar trains one of the easiest ways to get between London and Paris.
Travelling by Train: The Eurostar Experience
As much as I love flying (it makes me incredibly nervous, excited and brings back fond childhood memories all at the same time), something has got to be said for the convenience and ease of taking the train through Europe.
And the Eurostar ensures that you travel between some of London and Paris' most central and largest train stations (Gare du Nord and St Pancras International), meaning that your onward journey is that much smoother (and shorter), as opposed to getting to and from the airport. City to city, the train takes less than two and a half hours.
Other benefits of travelling by train include being able to see the European countryside out of your window (side note: I had no idea that there were so many cute little churches in the French countryside!) and convenience (by the time you add up getting to the airport and waiting at airport security, train travel and travel by air take roughly the same time).
Standard, Standard Premier & Business Premier: Which should I choose?
Onboard Eurostar, there are three kinds of seating; business premier, standard premier, and standard. Standard premier is a kind of 'in-between' with the same kind of seat that is offered in business class, but fewer offerings in terms of food and drink.
With Standard Premier, you also don't get the extra frills of business premier such as access to the business lounge and speedier boarding. What you do get, however, is extra space, a meal and a couple of drinks which you would not otherwise get if you opted for Standard.
In Standard, you'll find a slight step down from Standard Premier; there is slightly less leg space and you have to pay for food and drink. I've now travelled by both standard and standard premier and found that while both are comfortable, the extra space in Standard Premier was perfect for those wanting to work in a little peace and quiet.
The complimentary meal and glass of wine that came with my Standard Premier ticket was also a lovely touch that made the fairly fast journey on the train go by even quicker.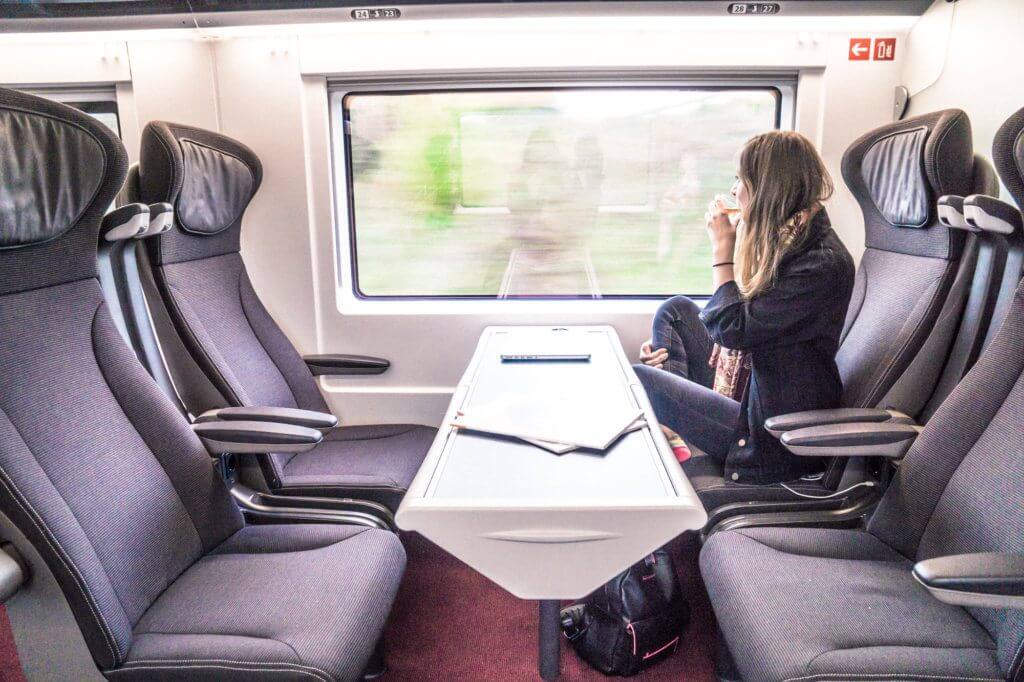 Eurostar Standard Premier review of the facilities
Around fifteen minutes after our train had pulled out of the station, food was served. We were each given a tray of food; with both meat and vegetarian options on offer. With your food, you're also offered a small bottle of chilled wine (red, white or rosé- though obviously, the red is not chilled!) and a warm beverage in the form of a tea or coffee.
The food is the perfect amount for those who haven't eaten lunch and I happily sipped on my glass of rosé for the remainder of the journey. If you travel in Business Premier, you're offered a full three-course meal, while those travelling Standard have the option to purchase food and drink at an extra cost.
Onboard, you'll find complimentary WiFi throughout the journey. There is WiFi available throughout the train. However, as Eurostar explains when you connect, the signal quickly jumps from 3G tower to 4G tower meaning that connection is patchy at best.
To be honest, I found the signal bad pretty much the whole way and so I ended up just working on tasks that didn't require the internet! That being said, the WiFi at both Gare du Nord and London St Pancras is fast, free and completely efficient for sending emails etc.
Though the internet may be patchy, there are still plenty of movies, magazines etc. which are all available throughout the journey thanks to Eurostar's onboard platform.
You just have to connect your device, and you're away! For those who find their battery life doesn't quite match their technology addiction, plug sockets are also available throughout the train.
Is the Eurostar Standard Premier worth it in 2022?
I recently travelled on the Standard Premier service between London St Pancras and Paris Gare du Nord in June of 2022. The staff are very friendly and, much like my previous experiences on the train, the food was of varying quality. They had both a vegetarian and meat/ fish option, though when it came to the wine only red or rosé was available.
My train was unfortunately delayed by over three hours, though I did receive compensation (you can either get cash back or a voucher to use on future Eurostar journeys). Much like with my earlier experiences of Eurostar, I would say that the upgrade is worth it if it is not too much more than purchasing a standard ticket.
Enjoyed reading this Eurostar Standard Premier review? Pin this article now, read it again later:
Thanks to Eurostar for the Standard premier tickets which enabled me to travel between two of my favourite cities (London and Paris) just in time to see all of the pretty fall leaves! All words and opinions remain my own.