Last Updated on 4th October 2022 by Sophie Nadeau
When it rains in Montreal, it truly pours. Rain showers can last for hours, but there's luckily plenty of indoor activities if you don't want to get caught out by the bad weather (but be sure to pack an umbrella in your suitcase just in case!). Here's your ultimate guide on how to spend a rainy day in Montreal and still have fun!
Montréal, which is the second-largest city in Canada, is located in the south-eastern portion of Quebec. It was originally called Ville-Marie, and the city is situated close to the border with the US. The area is now known as Montreal after Mont Royal, the three hills which overlook the rest of the city. For more inspiration, be sure to check our 3 days in Montreal itinerary.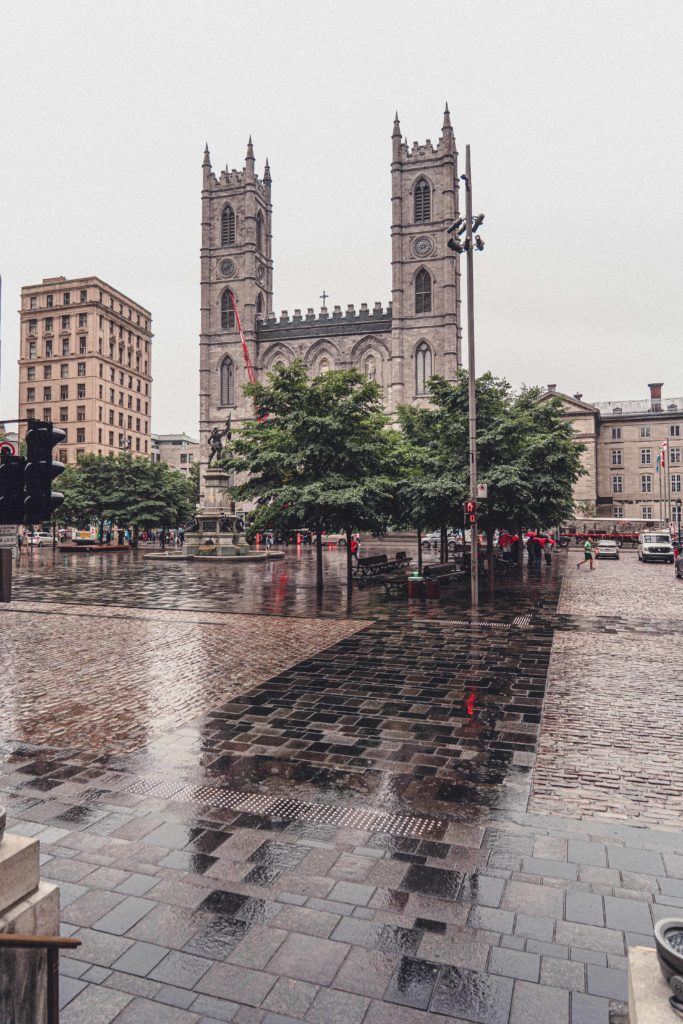 Suggested things to do in Montreal when it rains
Enjoy the foodie scene of Montreal
You may well not know this, but Montreal has one of the best foodie scenes in North America. Home to an abundance of eateries, restaurants, bars, and fine dining experiences, look well enough and you'll soon be treated to a myriad of options and cuisines from all over the world.
For those in search of particular gourmet tastes, head to Mile End for the best bagels in town. Local's often cite Fairmount or St-Viateur as home to the best bagel in town, though the jury's still out as to which one truly is the tastiest!
Check out our guide to bagels in Montreal for even more tasty inspiration! Otherwise, head to l'Avenue (922 Mont-Royal Ave E) for the best brunch in town and LOV (464 McGill St) for the best vegan eats.
And, of course, all this is not forgetting some of the must-try dishes in Montréal that aren't to be found anywhere else! Hands down, the best smoked-meat sandwiches (a local speciality) are to be found at Schwartz's Deli.
Meanwhile poutine (cheese curds served on a bed of fries and topped with gravy- don't knock it until you've tried it) can be found all over town. My personal favourite meat-free poutine is served at Lola Rosa. For more recommendations, check out our guide on where to eat in Montreal.
From a piece of the Berlin Wall tucked away in the Montreal World Trade Centre to a forgotten chapel steps away from the Old Port, plenty of Montréal's more hidden and secluded gems are tucked away indoors and far away from the rainy weather which typically occurs during the autumn and spring, but can also arrive unexpectedly during the summer months.
Visit the Basilica Notre-Dame
Beautiful and ornate, the Notre Dame Basilica is situated directly across a spacious square from the Bank of Montréal and is to be found in the Old Town district of the city. Surrounded by cobbled lanes, small boutiques, and plenty of souvenir shops, the ecclesiastical building dates all the way back to the early 19th-century.
Easily one of the top things to do in Montreal, the Gothic building is home to some pretty impressive carved stone sculptures, oodles of stained glass windows, and other breathtaking artworks.
Though you now have to pay a fee to enter ($8 CAD/ USD or $5 CAD/ USD for concessions and the USD and CAD amount for entry is the same), the Notre Dame Church is truly one of the finest religious buildings in North America.
Explore the small museums of Montreal
Between a free museum hidden away in the Bank of Montreal, the forgotten Redpath Museum (free to visit and located on the McGill Campus), and the history-focused Pointe-à-Callière Museum (which is easily one of my favourites), Montréal has no shortage of museums which often fly under the radar in lieu of their more famous counterparts.
In total, there are over a dozen quirky and unusual museums which cater to every interest. One of the more unique cultural experiences in the city which will enthral and brighten up even the rainiest of days is a visit to the Musée Marguerite-Bourgeoys et Chapelle Notre-Dame-de-Bon-Secours (whose rooftop offers one of the best views of the Vieux Port).
Those who are looking for a more unusual take on the history of Montreal would do well to consider visiting the Musée des Pompiers de Montréal (firefighter museum).
Shop in the underground malls
Throughout the city, there's a secret pedestrian underground world and network of cafés, eateries, and above all, shopping complexes. Set across malls throughout Montréal, there are miles worth (over 20 to be precise!) of interconnected buildings which mean you'll never have to step outside (and into the rain).
In total, six complexes are interconnected via subway stations and 'souterrain' tunnels, offering shoppers the chance to avoid the rain and purchase their wares without having to deal with the bad weather outside.
It's also worth noting that these Montreal malls are home to a myriad of interesting artworks, meaning that you're never sure as to what you'll spy next when you venture underground.
Shop at the Marché Bonsecours
So-called thanks to its position beside the Chapel of Bon Secours, the covered marketplace presides over the Vieux Port and is a must-visit when in the Old Town neighbourhood of the city.
Boasting a wide array of independent shops and boutiques, this is the perfect place to not only pick up a few souvenirs for loved one back home, but also to spend a rainy day in Montreal.
Explore the other churches of Montreal
Though you must pay to visit the Basilica in Old Town Montreal, there are plenty of smaller (and, indeed, larger) churches across the city that equally merit a visit. In the Old Town district of the city, the Notre-Dame-de-Bon-Secours Chapel is free to visit and dates back to 1771, making it one of the oldest churches in Montréal.
Elsewhere in the city, one of my favourite finds was the St. Patrick's Basilica. Free to visit and wander around (though, of course, donations are always appreciated), this church is a perfect way to hide away from the rain in Montreal. The Basilica was constructed in the mid-19th-century and its style is Gothic-revival (much like the Basilica of Ottawa).
Hide inside the bookshops of Montreal
Cosy and inviting, Montreal has a plethora of bookstores to appeal to every bibliophile. While the majority of the best second-hand and specialist shops can be found in the Plateau Mont-Royal neighbourhood, other districts of the city also boast their own fair share of booksellers.
A personal favourite find of mine was Librairie Bertrand. Situated in Old Town Montreal, a welcoming blackboard outside proclaimed a joke: "I have so many books at home… Oh, Look! A Bookstore!" I also loved perusing La Bouquinerie du Plateau and even bought a local guidebook there!
Go vintage shopping in plateau mont royal
For those who love thrift stores, there are plenty of hidden shops and off the beaten path locations worth discovering. Many of the best vintage stores are situated in the Plateau Mont-Royal district of the city, a hip and trendy neighbourhood between Downtown and the Mile End District.
Well-known for its independent bookstores, quaint cafés, and quintessentially Montréal architecture (i.e. the two-storey houses with their outdoor staircases), Plateau Mont-Royal is also where many of the best vintage and thrift stores in town are located. Among some of the must-see shops include the sprawling Eva B and the ever so quaint Kitsch'n Swell.
Marvel at artworks in the Museum of Fine Art
Of course, no guide to spending a rainy day in Montreal would be complete without at least acknowledging the Musée des Beaux-Arts. Situated not far from the McGill Campus and not far from the base of Mont-Royal (the impressively high hill from which Montreal's name derives), this Museum is the kind of place you could easily find yourself lost in for upwards of half a day.
Founded in 1860, the Museum enjoys a widely regarded international reputation and is amongst one of the finest museums in Canada. Spacious and inviting, the exhibitions are spread out over five Pavilions, each with their own distinctive theme. And between ancient art, Canadian art, and modern art, there's sure to be something which everyone will enjoy.
Enjoyed reading about how to spend a rainy day in Montreal? Pin this article now, read it again later: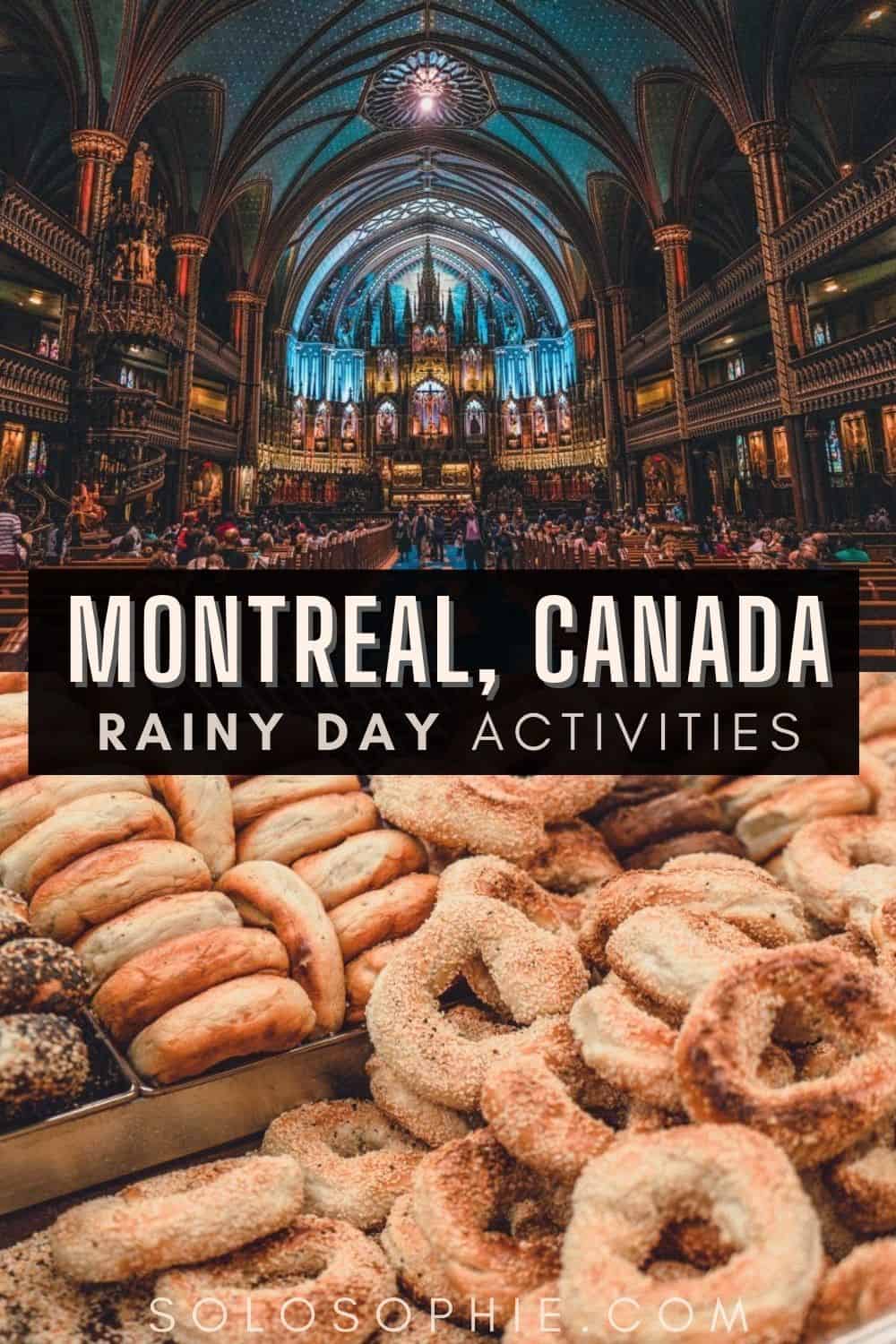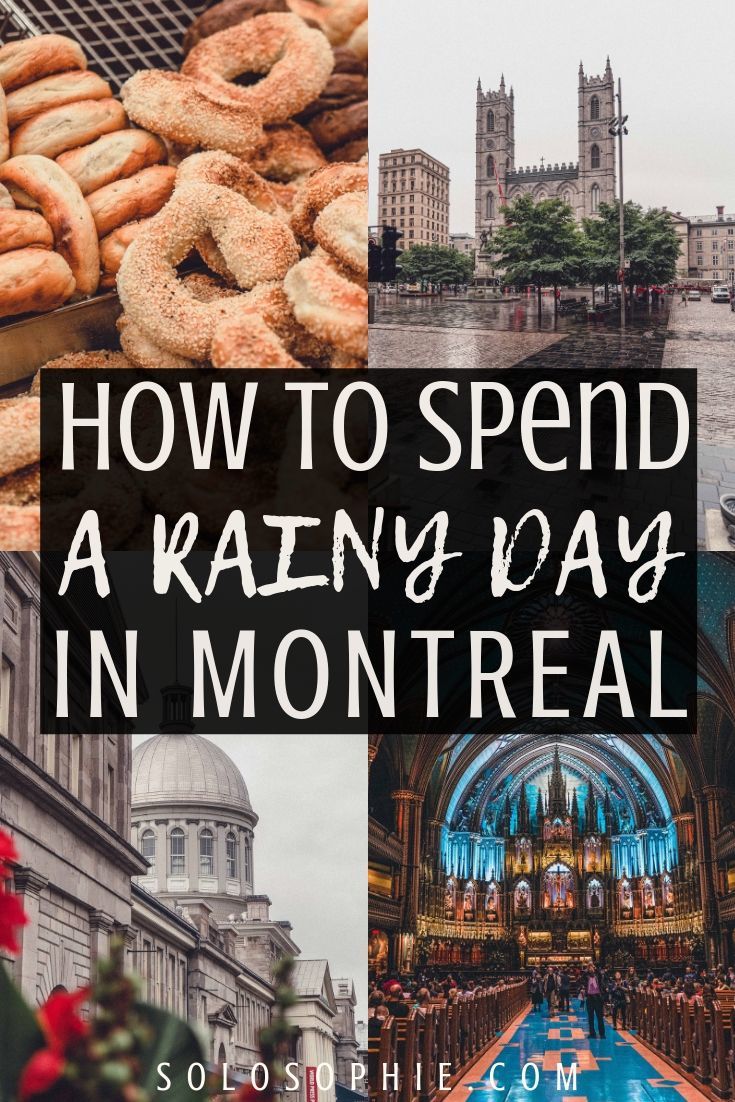 Sophie Nadeau loves dogs, books, travel, pizza, and history. A fan of all things France related, she runs solosophie.com when she's not chasing after the next sunset shot or consuming something sweet. She currently lives in Paris. Subscribe to Sophie's YouTube Channel.